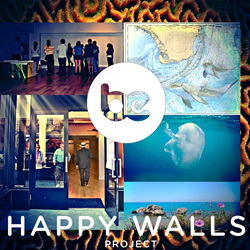 Making the world a happier place, one wall at a time.
West Palm Beach, FL (PRWEB) April 01, 2014
According to the Be Happy Walls Founder, Joe Pregadio, "We are very proud and excited to host our first art show at Startup Palm Beach. We have already received donations from various local and national artists and have begun accumulating an impressive inventory of prints. We are now in the process of selecting which locations will benefit the most from our creative works.
The majority of artwork that will be on display at the exhibition will be made available as donations to benefit homes and community centers with specific needs. Since announcing the "Be Happy Walls" mission, less than one month ago, the positive feedback from the art and business community has been outstanding. We are currently seeking art ambassadors who are passionate about giving back to the community through their creative endeavors.
About Be Happy Walls
Be Happy Walls is one of the first ventures to begin developing out of Startup Palm Beach. The Be Happy Walls' vision is to donate art to homes and community centers with specific needs and temporarily supply art into locations that are working to benefit the community. Within this process we will have the capability to cultivate a platform and organization of benevolent creators. For more information on how to help or become an ambassador, please go to https://www.facebook.com/behappywalls.
About Carly Mejeur
Carly Mejeur is the Creative Director of Be Happy Walls. She is a Lantana, Florida local artist and attended the Maryland Institute College of Art. She received her BFA in painting. After gaining her Masters in Art Education, Mejeur took a teacher position at the Palm Beach Maritime Academy. Blessed with a constant source of inspiration from her surroundings and hobbies, Carly is gradually gaining a name within the art community where she hopes her artwork will bring more awareness to the marine conservation effort of South Florida. For more information on Carly Mejeur, please go to http://www.carlymejeur.com.
About Startup Palm Beach
Startup Palm Beach is located at 416 Clematis in Downtown West Palm Beach, Florida. Startup Palm Beach offers educational workshops, mentorship and funding programs in order to empower entrepreneurs to Think, Build and Grow. Unlike our competitors who are focused on capitalizing on the concept of co-working, Startup Palm Beach is focused on providing service-based leadership, putting the startup first and driving positive development. For more information please go to http://startuppbc.com/.