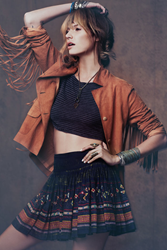 The city of Hong Kong is so dynamic, and we can't wait to meet and learn more about our customer here.
Philadelphia, PA (PRWEB) April 01, 2014
On April 1st, specialty fashion brand, Free People will open its very first shop-in-shop in Hong Kong in partnership with contemporary retailer, Lab Concept. The 650 square foot shop at Lab Concept Queensway Plaza in Hong Kong will be complete with the brand's eclectic clothing and beloved line of intimates.
The shop-in-shop will stay true to the Free People aesthetic, offering a setting filled with the colorful décor and hand touched details the brand is known for, while incorporating elements that are unique to the space. The shop features sheesham and teak wood tables, as well as curtains hand sewn from hundreds of individual squares of fabric. Caged twinkle lights illuminate the space, hanging from cast-iron branches that provide a sense of the outside world indoors.
The opening in Hong Kong is part of Free People's overall expansion plan for Asia. Throughout the month of March 2014, three additional Free People retail locations opened across Japan in Kyoto, Osaka, and Tokyo. Future openings are slated for 2014 as the company grows quickly in the Asian market, which it first entered just this past fall with two store locations in Tokyo.
"We are happy to be partnering with Lab Concept to offer our fans in Hong Kong and China a full Free People shopping experience for the first time," says Krissy Meehan, Global Managing Director, Free People Wholesale. "The city of Hong Kong is so dynamic, and we can't wait to meet and learn more about our customer here."
"Lab Concept will open the first Free People shop, to give Hong Kong customers a genuine, full experience of the Free People spirit. With its strong core values, we think Free People will have a devoted, ever-growing following in Hong Kong," says Morgan Tan, Vice President of Lab Concept.
Free People Lab Concept will be located in Queensway Plaza, 93 Queensway, Hong Kong (Admiralty MTR Station, Exit C1). Fans can stay up to date on the latest arrivals and happenings at http://www.freepeople.com/ and http://www.weibo.com/freepeoplechina.
###
About Free People
Free People is a specialty clothing brand featuring the latest trends and vintage collections for women who live free through fashion, art, music, and travel. The eclectic look consists of quality apparel, shoes, and accessories that invoke attributes of femininity, spirit, and creativity with its design. Free People is distributed globally via direct channels, including the Free People US site and Free People UK site, as well as specialty boutiques, top department stores, and the brand's own free standing retail locations in the U.S. and Canada.
About Lab Concept
Lab Concept is a contemporary lifestyle retail destination, working in partnership with leading contemporary brands around the world. Located in a prime location at Queensway Plaza, Admiralty, the mall features its own edited version of contemporary fashion brands, cosmetic and skincare brands offered by Facesss, the latest footwear and accessories brands by Pedder Group's shoespace with a selection of food and dining concepts which completes the perfect experience for any shopper in town.