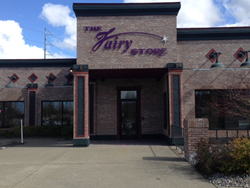 "We look forward to greeting each and every person who comes to enjoy the magic The Fairy Store has to offer."
Lakewood, WA (PRWEB) April 08, 2014
eFairies.com, a leader in fairy collectibles, costumes and gifts, announced today they are hosting a grand opening for their new retail store in Lakewood, WA. The store will open this Thursday, April 10th, 2014 at 9 am.
The new brick and mortar location is an expansion from The Fairy Store's previous storefront in Tumwater, WA, which opened in 2005. Following several years of business success, the need for growth was a prominent next step for the company. The store is permanently moving from their previous location at 502 Custer Way in Tumwater, WA.
In the new Lakewood location, The Fairy Store will have an increased showroom space and improved layout for the expanding business as they strive to offer an increased number of product lines to new and existing customers.
"The fairies have put the final touches in the showroom and we are ready to share the magic," said owner of The Fairy Store, Shirley Ritter, known to many as The Fairy God Mother. "We look forward to greeting each and every person who comes to enjoy the magic The Fairy Store has to offer."
The Fairy Store is committed to providing a positive shopping experience through both their storefront and their e-commerce website. The company features a wide selection of collectibles including fairies, gnomes, mermaids, unicorns and dragons. Committed to expanding their products within the mythical realm, customers are guaranteed to find new costumes and collectibles when they visit The Fairy Store this Thursday at the Lakewood storefront.
The Fairy Store's will now be located at 2202 84th Street South, Lakewood, Washington 98499.
Hours of Operation at the location will be:
Monday-Friday 9 am-5 pm
Saturday 10 am-2 pm
Closed on Sunday
About The Fairy Store:
The Fairy Store, also known as eFairies.com is a full spectrum fairy retail store specializing in all things magical. The store is dedicated to lightening hearts and spirits by bringing fairy magic into the world. The Fairy Store provides an ever-changing selection of fairy products, from the traditional and classic, to the most recent releases, to unique and one-of-kind pieces.