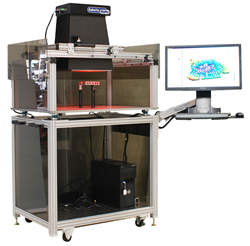 Coherix, Inc. and MSI-Viking Gage LLC are collaborating to make a powerful impact on the manufacturing industry in the Southeastern United States.
Ann Arbor, Michigan (PRWEB) April 02, 2014
Coherix, Inc., a leading 3D vision company serving the electronics, semiconductor and automotive industries has entered into a strategic partnership with MSI-Viking Gage, a multinational company dedicated to the design of precision test and measuring equipment; and comprehensive testing services for a wide variety of vehicle components. Through this partnership, Coherix is providing measurement solutions to complement MSI-Viking's metrology expertise. MSI-Viking Gage and Coherix share a common goal of providing added value to their customers with new technology and measurement techniques that improve manufacturing processes and diagnose potential problems.
Dwight Carlson, CEO of Coherix stated, "MSI-Viking Gage is a highly respected leader in sales and services in advanced metrology. We are proud to be associated with a company like MSI-Viking Gage. Coherix has redefined 3D metrology with its five platform technologies and an in-depth knowledge of non-contact measurement. Combining that with MSI-Viking Gage's knowledge of measurement systems, the result is a dynamic measurement and problem solving resource for the manufacturing industry.
Dan Carter, Vice President of MSI-Viking Gage, explains the unique benefits of the partnership. "MSI-Viking Gage has a tradition of introducing advanced metrology solutions to enhance our customers' manufacturing processes. Our partnership with Coherix brings added capabilities of high –definition, full surface 3D areal measurements which greatly complements our other offerings in precision measurement."
Coherix is a privately held, global supplier of high-speed, high-definition, 3D visualization and inspection solutions designed to improve the management of manufacturing processes. Headquartered in Ann Arbor, MI the company has technical centers in Europe and the Asia Pacific region. Coherix products are being utilized around the world at companies such as Intel, Amkor, BorgWarner, Ford, Honda, Allison Transmission, Chrysler, General Motors, Micron, Infineon, John Deere, Volvo Technology Transfer and Aisin among others.
MSI-Viking Gage is a sales and service organization dedicated to provide advanced metrology solutions to the transportation and advanced manufacturing engineering industries. Their in-house service, repair, modification and calibration capabilities range from full mechanical, electrical, to fabrication parts and assembly. With facilities strategically located in their territory, they can provide comprehensive services within a short distance of their customers.