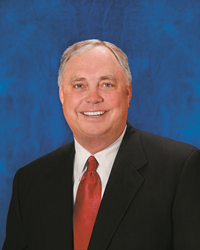 Austin, TX (PRWEB) March 31, 2014
Jackson Walker L.L.P. is pleased to welcome Drew Darby to the firm as of counsel in the Real Estate and Energy practice groups. A San Angelo native, Mr. Darby will work with the firm's San Angelo and Austin offices.
Throughout his career, Mr. Darby has distinguished himself as an accomplished businessman, attorney, and public servant. Prior to joining Jackson Walker, Mr. Darby founded and built two successful businesses: his law firm, Darby Law Firm PLLC, and Darby Title, Inc. DBA Surety Title, of which he will continue to serve as president and chief executive officer. In his legal practice, Mr. Darby has extensive experience in matters related to real estate, oil and gas/energy, water law, and commercial transactions.
"We are pleased and honored that Drew has chosen to join Jackson Walker," said firmwide managing partner Wade Cooper. "His depth of experience and legal insight make him a tremendous addition to our team."
Mr. Darby has also served in the Texas House of Representatives since 2007 as a Republican representing District 72, which includes San Angelo and encompasses nine West Texas counties. During his tenure, Mr. Darby has served on several key House committees. He is currently chairman of the Redistricting Committee and chairman of the Texas House of Representatives Energy Caucus and is a member of the Appropriations and Higher Education committees. He also chairs the Appropriations Subcommittee on Natural Resources, Business & Economic Development and Regulatory agencies and is a member of the Appropriations Subcommittee on Budget Transparency and Reform.
Sam Allen, a partner in Jackson Walker's San Angelo office, has been a member of the Tom Green County bar for almost 30 years and has been consistently impressed with Mr. Darby's professional accomplishments and his dedication to serving both his clients and his constituents.
"Drew has always been an excellent attorney, and he's served West Texas admirably as our state representative," said Mr. Allen. "I'm looking forward to working with him in a professional capacity."
Mr. Darby received his B.B.A. and J.D. from The University of Texas at Austin. He is also a graduate of the Emerging Political Leaders Program at the University of Virginia's Darden School of Business. Among his many honors, Mr. Darby received the Oil & Natural Gas Industries Texas Legislative Champion Award (2013), "Best of the Legislature" (Capitol Inside, 2013), "Best Legislator - Honorable Mention" (Texas Monthly, 2013), and was named "2012 Citizen of the Year" by the San Angelo Chamber of Commerce. Mr. Darby is also extensively involved in his community. He has served in leadership positions including as a former member of the San Angelo City Council, former Chairman of the San Angelo Water Advisory Board, and former Chairman of the Lake Nasworthy Advisory Board. He is also a member of First Presbyterian Church of San Angelo and the San Angelo Rotary Club.