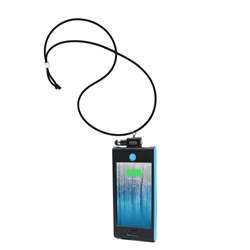 Dallas, TX (PRWEB) April 01, 2014
The artist currently holding the number one position on the Billboard Hot 100 charts has been seen around town with a solid gold iPhone. With that expensive of a smartphone, rapper Pharrell Williams, the voice behind the mega-hit single "Happy," may want to take a look at the new iPhone 5C Case with Lanyard Necklace from iHangy. The case's heavy-duty construction and shock absorbency is ideal for protecting all iPhone 5Cs, regardless of what they are made of.
A Huffington Post (http://www.huffingtonpost.com/2007/12/14/pharrell-blings-out-iphon_n_76848.html) article a few years back featured music superstar Pharrell Williams with a solid 18k gold "iPhone done by the one and only Jacob the Jeweler." Only the jewelry designer and the rap artist know for sure how much the gilded smartphone actually cost, but one thing is for sure … it was expensive. The new iPhone 5C Case with Lanyard Necklace from iHangy can safeguard even the priciest of smartphone investments.
For more information on how iHangy's iPhone 5C Case with Lanyard Necklace can protect even iPhones made from delicate 18k gold, contact iHangy's Palki Kochar. To learn more about the new smartphone case, visit the manufacturer on the web at http://www.ihangy.com/category-s/1843.htm.
###
CONTACT INFORMATION:
13650, TI Blvd., Suite #309
Dallas, TX 75243
(877)676-0877