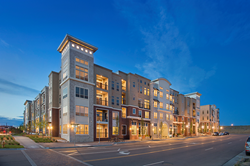 The Vue evokes a distinct energy that our chosen materials and elements reflect. The space features contrasting pieces that bring a level full of nature and the outdoors into a modern space.
Dallas, Texas (PRWEB) April 01, 2014
On a prominent site in Lone Tree, Colo. is the latest inspiration of Moore Design Group and developer Martin Fein Interests, Ltd. Located in one of the most desirable communities in the Denver area, The Vue at RidgeGate is part of a 3,500 acre master-planned community that is designed around parks, trails and a future Light Rail site. The premium, amenity rich apartments offer luxury living with a picturesque backdrop.
The Vue at RidgeGate embodies an inventive interpretation of dimension, structure and shape that captures what life in Colorado is all about. Through creative and inscribed environments that aren't trendy or over the top, the sleek "mountain modern" design is indigenous and inspiring - a relaxed atmosphere where all barriers are removed.
Upon entering the lobby, visitors are greeted with contrasting elements and an overall energetic design. The extraordinary surface of the reception desk, designed by MDG from CaesarStone's Masterpiece Collection, is hand-made from individually cut and bound semi-precious brown agate and radiates an earthy energy.
The Stix Pendant lighting by Charles Loomis mimics shining prisms of ice on the branches of trees in a snow-covered forest and emit a stunning brilliance. The interior wall ledge cladding throughout the reception and club areas blends a unique collection of slate, sandstone, quartzite and schist off-cuts that were left over from various quarries - a sustainable, eco-friendly product that creates an organic ambiance.
Corten steel portals lead to the clubhouse, the lively heart of community life. The Douglas fir wide plank flooring in the great room is the passion of the artisans of Viveash Ranch in New Mexico. Artist, Welder and Sculptor Geoff Hager used recycled and re-purposed metal bits to create the custom metal sculpture on a steel plate and add a bit of soul to the space. The library features ecological and stylish cork floors and an expansive terrace that offers uncommonly regal seating for the outdoors in the form of an 18th century teak wing back chair.
Residents can also enjoy the media room with theater-style seating for 20 and a well-equipped fitness center. A demonstration kitchen that can be used for cooking classes and entertaining is adorned with handcrafted "floating" tables and custom cedar block art.
Moore Design Group created an inviting and vibrant space that connects to its incredible surroundings. The motif is a meld of clean lines with warm tones, richly hued fabrics, sustainable woods, customized pieces and handsomely textured furniture.
"Our vision was to create an oasis where visitors and residents would enjoy socializing and relaxing," MDG Principle Stephanie Moore-Hager said. "The Vue evokes a distinct energy that our chosen materials and elements reflect. The space features contrasting pieces that bring a level full of nature and the outdoors into a modern space."
With the installment of The Vue at RidgeGate and plans for the development of more properties in the area already on the boards, the designer/developer duo is branching out to one of the top 10 new construction metros in the nation, according to Multifamily Executive. The urban environments are changing the lifestyles of potential residents – consumers crave the amenities that the decade old apartments in the area lack and it is easy to see how renters are lured to the new amenity-wrapped apartments.
"Denver is a very attractive city for lifestyle and employment. Being on a rail line appeals to the professional, and walkability is also a big factor," Martin Fein, President of Martin Fein Interests, Ltd. said. "The hallmark of our communities is the service and attention to detail in every aspect of the development down to the smallest details. Stephanie and her team play a big role in establishing that atmosphere. It really is a collaborative process."
MDG and MFI continue to create properties that combine architectural distinction, superb design with an unwavering commitment to quality and craftsmanship. Their communities are the consummate settings for life as it can be lived and promise a lasting appeal for generations to come.
_____________________________________________________________________________________
Established in 1991, Dallas-based Moore Design Group has earned a reputation as the leading designer of multifamily living communities in the United States. A comprehensive design portfolio, media coverage, awards, company information and more are available at mooredesigngroup.net.