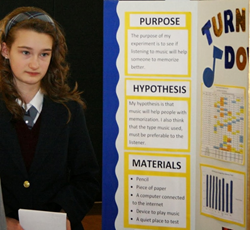 'There were a lot of projects that were like mine so I felt I had to do the very best I could,' said Hannah Yep, a seventh grade Everest Academy student who advanced to the State Competition with Outstanding Honors.
Lemont, IL (PRWEB) March 31, 2014
"Do video games affect your reaction time?" "What soil grows the best pea pods?" "Is it true that tea stains your teeth?" "What kind of music is best for study time?" The young aspiring scientists of Everest Academy Middle School investigated these questions and other diverse topics during the recent Science Fair at Everest Academy, upon which five seventh graders and three eighth graders advanced to Regionals, with seventh grader, Hannah Yep, advancing to State.
When asked how she felt about the competition at Regionals, Hannah Yep, whose project Turn That Down investigated the effects that different types of music have on one's ability to concentrate, responded, "There were a lot of projects that were like mine so I felt I had to do the very best I could." Hannah did just that, advancing to State with Outstanding Honors. Though some parents were not pleased with the long wait times many students had before being judged, Everest mom Laura Henze said she was quite impressed with how organized the science fair seemed to be and how many volunteers there were.
Everest Academy students competed against participants from 50 other schools with over 500 projects. Second Place Honors were awarded to Alia Akroush of Lemont and Kamil Zaborski of Romeoville, First Place Honors to Samantha Deppert of Lemont and Julia Delgado of Joliet, and Outstanding Honors to Sophia Colarelli of Lockport, Hannah Yep of Homer Glen, and the team of Jack Zabilka and Michael Henze, both of Lemont.
Everest Academy is an independent Roman Catholic school in Lemont educating children from preschool through eighth grade. Science is taught in all grades, including preschool. The teachers and staff are dedicated to forming the whole child by providing the highest level of academics, by building strong character, and by preparing generous leaders ready to serve the community. To learn more about Everest Academy's unique approach to education, please contact KC Wollenberg at 630-243-1995 or visit: http://www.everestadvantage.org.