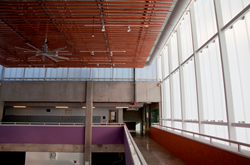 "Today, we're proud to provide leading-edge daylighting systems that reflect the most advanced translucent technology to complement designs like those from Rogers Partners that reflect the most advanced concepts in school design."
Canton, MI (PRWEB) April 02, 2014
A high-performance translucent daylighting system by Duo-Gard Industries is brightening the outlook for students at Baltimore's first new public school in over 20 years. The progressive design by New York City's Rogers Partners Architects integrates extensive natural light as an important element in the Henderson-Hopkins School in East Baltimore.
Opened in February 2014 and formally named Elmer A. Henderson: A Johns Hopkins Partnership School and the Harry and Jeannette Weinberg Foundation Early Childhood Center, it will be operated by Johns Hopkins University and Morgan State University. The 7-acre campus also includes an auditorium, a gym and a library shared with the East Baltimore community.
The school, hailed as a model for social and economic revitalization in urban neighborhoods, was designed to provide inspiration in a safe learning environment, said Vince Lee, AIA, associate partner at Rogers Partners. "We didn't want to just bring back the neighborhood as it was, but also to help plan for the future of East Baltimore's development."
The school is comprised of five connected, small-scale Houses. They serve students through Grade 8. "Each House is a unique educational model," said Lee. "Each includes both formal and flexible learning areas where students can receive a personalized experience in three traditional classrooms, plus a House Commons that promotes connection to the outdoors, and every room in the school has a window."
The importance of natural light in educational settings is a given today, following the landmark study by researchers at the Heschong-Mahone Group in 1999, which proved that student productivity rose in rooms with the most natural light. Confirmed by countless studies since then, daylighting is now regarded as an integral element of sustainability, student comfort and enhanced learning outcomes in schools.
Achieving the benefits of daylighting without the burdens of glare and heat gain remain a design challenge. However, advanced technologies in high-performance translucent glazings are making it easier, said David Miller, Duo-Gard's president.
"Duo-Gard has been involved in energy-efficient daylighting for schools since our beginning 30 years ago in 1984," Miller said. "When schools that were built in the 1950s and '60s with walls of windows became desperate to minimize their operating losses from glare and heat gain, we offered renovation with translucent polycarbonate overglazing systems.
"Today, we're proud to provide leading-edge daylighting systems that reflect the most advanced translucent technology to complement designs like those from Rogers Partners that reflect the most advanced concepts in school design."
Duo-Gard's Series 3500 System was selected to meet the stringent sustainability requirements of Rogers Partners' design specifications. The school is one of the first projects in the Baltimore City Green Building Standards Program, which has compliance built into the inspection process. Lee said this would be equivalent to silver in LEED.
Engineered for large vertical applications, the Series 3500 features Duo-Gard's proprietary aluminum framing with translucent multiwall polycarbonate glazing in a 40mm tongue-and-groove configuration. The tint is opal. Certified by the National Fenestration Rating Council, this Duo-Gard system achieves U-value 0.29, light transmission 30% and solar heat gain co-efficient 0.39.
Aesthetics also played a part. The mullion-less, tongue-and-groove glazing presents clean, contemporary lines, and Duo-Gard engineers created polycarbonate corner connections to maintain the look with minimum metal.
"It provides a contrast to the grooved precast concrete façade of the structures, which echoes the brick and 'form-stone' in many typical Baltimore buildings," Lee said. "We were inspired by East Baltimore's history, where row houses were centered around the church. Here, the single-story school buildings and the elevated Commons areas allow the community's historic St. Wenceslaus church to stand out."
Architect Lee has designed with polycarbonates before, but not on this scope. The $42-million-dollar, 125,000-square-foot school contains 24,510 square feet of Duo-Gard's translucent systems, mostly in clerestory wall applications ranging from 9 feet to 30 feet high. Combined with glass systems, they provide the benefits of natural light to 97% of the regularly occupied spaces in the school.
The translucent system also provides the benefits of diffused light. "The design wouldn't have worked using all glass," said Lee. "The Duo-Gard system provides daylighting without glare. And at night it glows, creating a landmark. With 100% of spaces receiving natural light in the public areas, all the educational spaces are bright and the children stay alert. The use of Duo-Gard's system is a huge part of that."
Lee said having daylighting of both Duo-Gard and glass plays a big part in the identity of the school. "When you're there, you know something exciting is happening. We think it's great, and we're very happy with the results," he concluded.
Construction Manager/Builder for the project was The Whiting-Turner Contracting Company. The school is part of the urban regeneration plan by East Baltimore Development, Inc.
Photo Credit: James Singewald Photography
About Duo-Gard:
Duo-Gard Industries Inc. is a leading innovator in high-performance translucent glazing systems and daylight modeling services for sustainability, as well as custom canopies including photovoltaics, bike shelters, bus shelters and outdoor structures. For over 30 years, Duo-Gard has advanced translucent technology with design, engineering, fabrication and installation of custom architectural products that enhance sustainability. Duo-Gard was established in 1984 and is located at 40442 Koppernick Rd., Canton MI 48187. The company was honored in May 2012 as one of the Michigan 50 Companies to Watch in 2012. For additional information, please visit http://www.duo-gard.com or call 734-207-9700.
Editorial Contact:
Linda Byam, Marketing Consultant – Duo-Gard 248-761-7990 lbyam(at)duo-gard(dot)com
Julie Mead, Marketing Manager – Duo-Gard 810-623-0561 jmead(at)duo-gard(dot)com