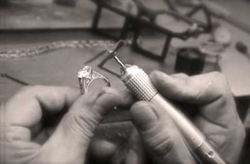 "At Razny Jewelers, we bring your dreams to life with our custom jewelry design. Our experienced and certified jewelers work with you to create a true piece of art that matches your vision." – Stan Razny, Owner of Razny Jewelers
Chicago, IL (PRWEB) April 02, 2014
Razny Jewelers is well known in the industry for their vast selection of designer jewelry and Fine Swiss Timepieces. However, their crowning jewel is custom jewelry design. With their newly expanded in-house jewelry shop Razny Jewelers is excited to better service their clients with custom design wishes. "At Razny Jewelers, we bring your dreams to life with our custom jewelry design. Our experienced and certified jewelers work with you to create a true piece of art that matches your vision." –Stan Razny, Owner of Razny Jewelers.
Razny Jewelers can design and handcraft jewelry in every price range, and encourage clients to schedule an appointment with one of their staff to create your dream from concept to completion. From engagement rings to fabulous fashion pieces Razny Jewelers will satisfy your every desire.
Razny Jewelers' is proud to offer in-house design services with their master goldsmiths, graduate gemologist and state of the art equipment. They are also pleased to offer CAD Designs to help in the development of your creation. You will be amazed at how simple this process will be.
After selecting the finest gemstones, we let the stone express splendor and majesty with exceptional design and superior craftsmanship. Every detail meticulously crafted to create a truly timeless heirloom. The only limit is your imagination.
The Razny Staff takes special pleasure in breathing new life into a previously loved piece. Satisfaction is knowing that a piece of jewelry that was left in a drawer or safe, never seeing the light of day, is now a staple in a clients' attire.
About Razny Jewelers
Razny Jewelers is family owned & operated. The Razny family represents the world's top brands and offers custom creations. Razny Jewelers is always on the cutting edge showcasing the brightest stars in the jewelry and Fine Swiss Timepieces' world. For over 60 years, Razny Jewelers has defined the essence of what a fine jewelry store should be to their clientele. Razny Jewelers is dedicated to the best combination of old-world and modern values. They are one of the only jewelers in the Chicago area that fabricates custom creations truly by hand. With several bench jewelers on staff, custom jewelry remains their specialty. Their careful attention to perfection and unrivaled craftsmanship turns dreams into reality. In addition, Razny Jewelers has Certified WOSTEP Watchmakers on premises to service your timepiece requirements. Razny Jewelers' integrity, honesty and commitment to unparalleled personal service bring their customers back time after time. Razny Jewelers' stores are located in Addison, Highland Park and Hinsdale.