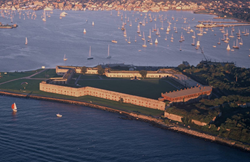 The National Geographic Channel program 'Diggers' kicks April off with an hour-long program featuring Fort Adams.
Newport, Rhode Island (PRWEB) March 31, 2014
Spring means a new beginning full of excitement, especially at Fort Adams, the largest coastal fortress in North America. Traditional museum experiences, new approaches to learning as well as physically demanding and emotionally rewarding experiences await visitors to Newport's Adventure Learning Destination.
The National Geographic Channel program 'Diggers' kicks April off with an hour-long program featuring Fort Adams scheduled to air Friday April 11. Rick Nagele, Executive Director of the non-profit Fort Adams Trust, spoke highly of the team that came to film at the Fortress. "Ringy and KG were great! They brought a ton of enthusiasm to their visit. And their appreciation of history, overall knowledge and respect for the National Historic Landmarks here was super to see."
Nagele also noted, "We weren't sure what to expect from a TV crew working on the property. But they coordinated very well with our partners at the Rhode Island State Historic Preservation Commission and the RI Department of Environmental Management. You can't just dig up a National Historic Landmark. They listened and their willingness to work around the rules under which we operate was excellent. The entire team involved in the production were professional and we especially thank Jaye Callahan for her help."
Also in April, Matt Gray, President of Graymatter Marketing, announced the second annual Newport 10 Miler scheduled for April 27, 2014. "The race will start outside the east wall of historic Fort Adams. The course will prominently feature Newport's scenic coastal views around the famed Ocean Drive and will pass many Bellevue Avenue mansions. The finish line will be truly unique as participants will enter the Fort through the north gate and finish on the parade field. Runners last year were thrilled by the beauty of the course and the pace of the event." A bird's eye view of last year's race gives a sense of scale to the event.
New interactive activities are also planned for the Fortress. Rob McCormack, Director of Visitor Experience, describes new activities for 2014. "We're looking at enhancing our self guided tours with new signage, audio and video as well as adding more interactive activities on our 6 ½ acre parade field. A number of military re-enactors will be here, primarily on weekends, to engage our guests one-on-one throughout the summer. These tours are moving to the next level."
Fort Adams continues to enhance and improve its programming and will be announcing even more events in the near future.
About Fort Adams and The Fort Adams Trust
The Fort Adams Trust is a 501 (c)(3) non-profit responsible for preserving, programming, and promoting the National Historic Landmarks in Fort Adams State Park in Newport, Rhode Island. Over 100,000 people tour the Fort and attend events in the Park annually.