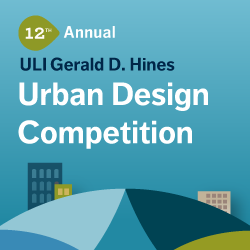 Nashville, TN (PRWEB) April 01, 2014
What:
Public Forum: Urban Design Competition Finalist Presentations and Winner Announcement
Graduate-level student teams -- representing the Georgia Institute of Technology, Harvard University, University of Maryland, and the University of Texas, Austin -- will present their final proposals for the twelfth annual Urban Land Institute (ULI) Gerald D. Hines Student Urban Design Competition next Thursday at a public forum at the Country Music Hall of Fame and Museum in Nashville. This year's finalists were charged with proposing a long-term vision for creating a distinct identity for the Sulphur Dell neighborhood, located in downtown Nashville.
A $50,000 prize will be presented to the winning team, and each of the remaining three finalist teams will receive $10,000.
Interdisciplinary teams participating in the widely-recognized competition were challenged with creating a hypothetical yet practical and workable scheme for the best use of Nashville's Sulphur Dell neighborhood. The fictional owner's request is made with an understanding of the market and nonmarket factors at play in building healthy places and of the value proposition of building and operating in ways that promote health. Student teams will be tasked with creating a development program that supports healthy choices by its residents and users, which can include physical activity, access to healthy food, and social interaction. According to the fictional scenario, the owner also requires that the proposal address how to build a neighborhood that is resilient to future floods.
When:
Thursday, April 3, 2014

8:30 a.m. – Introduction by Jury Chair Bart Harvey
9:00 a.m. – Team #1 Presents and Answers Questions from Jury
10:00 a.m. – Team #2 Presents and Answers Questions from Jury
11:00 a.m. – Team #3 Presents and Answers Questions from Jury
12:00 noon – Team #4 Presents and Answers Questions from Jury
1:00 p.m. – Jury Deliberation and Lunch Break
2:30 p.m. - Announcement of Winner and Presentation of Certificates
Where:
Country Music Hall of Fame and Museum
Ford Theatre
222 Fifth Ave. South
Nashville, TN 37203
Contacts:
Robert Krueger 202-624-7051 rkrueger(at)uli(dot)org
Background:
The Urban Land Institute (http://www.uli.org) is a nonprofit education and research institute supported by its members. Its mission is to provide leadership in the responsible use of land and in creating and sustaining thriving communities worldwide. Established in 1936, the Institute has nearly 32,000 members representing all aspects of land use and development disciplines