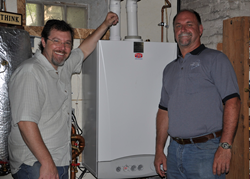 My Baxi boiler installer brought this 19th Century landmark into the 21st Century.
Gorham, Maine (PRWEB) April 01, 2014
With a proven high efficiency Baxi boiler system now heating his bed and breakfast operation, innkeeper Matt Mattingly no longer dreads facing hefty winter utility bills and rising energy costs.
The owner of Gorham's PineCrest Inn, a 5,500 square-foot dedicated historical landmark built in 1825, used to cringe when it was time to total his annual utility bills. That all changed for Mattingly five years ago when he installed a small, Baxi wall-hung gas boiler. The size of a kitchen cabinet, a Baxi Luna boiler has helped the bed and breakfast owner to save more than $6,000 a year, or 67 per cent less than what he used to pay utilities, since 2008.
"The Baxi boiler chopped my annual utility bills from almost $9,000 to $3,000," says Matt Mattingly. "Oil heat was, by far, my biggest previous cost, and there was a smaller propane bill for our kitchen range and electric bill for supplemental space heaters needed to make each of the 9 guest rooms more livable."
After analyzing the energy efficiency of the inn, local Baxi certified contractor Jim Robinson of Mainely Plumbing & Heating recommended that Mattingly upgrade to a Baxi hydronic heating system. By switching from oil to natural gas and installing a proven Baxi boiler for all of his radiator heating and domestic hot water production, the installer estimated Mattingly would save at least 50 per cent fuel consumption savings and enjoy a four-year payback on his investment.
Fuel use savings plus rebate programs for upgrading to high efficiency natural gas heating equipment have since enabled the innkeeper to pay off the original costs associated with installing a high efficiency hydronic heating system. Mattingly says the wall-hung boiler has not only put significant after-tax dollars back in his pocket, but it has also freed up valuable storage area space in the basement of his operation, while making the inn a more environmentally-friendly establishment.
The owner of PineCrest Inn is pleased to know that his Baxi boiler enriches his commitment to Maine's green lodging certification program. An Energy Star appliance, Baxi achieves up to 98 per cent energy efficiency, while producing 90 per cent less greenhouse gas emissions than a conventional boiler.
A State of Maine Energy Efficiency Building Performance Standards study shows that energy efficiency enhancements can increase a property's resale value by $20 for every dollar saved in annual fuel costs. Based on that study, the Baxi-generated savings increase the resale value of Matt Mattingly's bed and breakfast property by $118,840.
Since installing his Baxi, Mattingly says occupancy and repeat business rates have increased. Guests often tell him they find his inn to be more comfortable than before, and the PineCrest Inn owner is quick to credit his Baxi heating system.
"I now actually enjoy totaling my annual gas bills, and celebrating my savings over the costly oil system I used to have," says Mattingly. "Our guests are amazed to learn that this small, compact Baxi boiler is providing all of the heat and domestic hot water for the building, while helping me make Gorham a greener community. Clearly, my Baxi boiler installer brought this 19th Century landmark into the 21st Century."
To learn more about Baxi heating and renewable energy products available in North America, visit http://www.wallhungboilers.com.
About Baxi wall-hung gas and renewable energy solutions
A leading heating products manufacturer in Europe since 1866, Baxi has been at the forefront of wall-hung boiler technology over the past four decades, manufacturing 4,000 boilers at day at its Bassano, Italy plant for export to 80 countries, including the United States. In 2000, Baxi introduced the first high-efficiency combi boiler (provides both heating and domestic wall-hung boiler) in North America, and has recently introduced a proven, gas-adaptive, continuously self-calibrating combi wall-hung boiler. By becoming Baxi trained and certified, independent heating and plumbing contractors double the manufacturer's limited parts warranty, and are qualified to offer an optional Baxi 10-year extended parts and labor warranty to their Baxi home and business property owners.
-30-
Media Contact:
Pat Kahnert
905.337.7933
pbk(at)wallhungboilers(dot)com