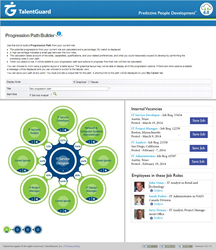 "With our continuous focus on career pathing and innovation, our team at TalentGuard has passionately studied the needs of modern internal career mobility, and we have created an effective solution to this frustrating problem." Linda Ginac, CEO
Austin, TX (PRWEB) April 05, 2014
TalentGuard, a provider of leading Enterprise 2.0 cloud-based talent management software, today announced in the newest release of CareerPath by TalentGuard, the first employee career development solution that intelligently and automatically builds custom career paths based on employee skills and interests. The software creates a personalized interactive career development plan that can be shared and collaborated on with others in the company.
Career development is complicated and most organizations do not execute on it well based on numerous published engagement studies. According to a survey by Forbes Insights1, the most significant factor that drives critical talent to seek new employment is the lack of career development available to them in their current job. Employees struggle to understand the specific skills, experiences and qualifications required for various roles, objectively assess their own job-based competencies, understand the skill gaps required to move from one job role to the next, identify mentors and coaches who have successfully transitioned within the career lattice, identify internal job vacancies and network and collaborate with other employees on their career journey.
For many companies, a constantly in-flux workforce has become a daily challenge of doing business. This trend is due in part to companies either placing an insufficient emphasis on supporting the professional development of their employees or simply lacking the skills and expertise to do so. Investing more time and energy into recruiting, holding onto, and developing their best employees can be unexpectedly complicated. Yet, it would be highly beneficial for companies to develop their existing employees in order to create a steady source of highly qualified talent from within. CareerPath by TalentGuard makes this easy and frees HR to focus on developing the best people, while the system intelligently helps employees navigate each organization's career lattice.
"Before this innovation from TalentGuard, every career development program focused on employees moving up the vertical ladder in a very predictable way. By enabling employees to engage in a lattice approach, they take more ownership over their career path and choose any number of job roles based on their skills, interests, experiences and preferences. Organizations simply don't have the internal career framework or expertise to make this happen," said Linda Ginac, CEO of TalentGaurd. "With our continuous focus on career pathing and innovation, our team at TalentGuard has passionately studied the needs of modern internal career mobility, and we have created an effective solution to this frustrating problem."
Some of the new enhancements of CareerPath by TalentGuard include:

Updated End User Interface – Overall, the design is cleaner and the interactions are more efficient.
Full Integration to Comprehensive Competency and Best-Practice Job Role Profile database – We partnered with a leader in competency-based job role profiles to eliminate the time and cost of creating job role profiles. The competency-based job role profiles cover 40+ business interpersonal competencies, 400+ industry specific functional/technical competencies and 750+ job role profiles, and are fully-editable.
Social Enterprise 2.0 – TalentGuard's Career Pathing solution now enables employees to connect with co-workers and provide real-time feedback and recognition. The ongoing conversation in a social context serves to drive team engagement, employee development and overall employee satisfaction. Employees can share their career pathing plans with some or all of the company. We can connect employee's career path interests with internal vacancies currently available within the company so they have immediate gratification of potential opportunities and enable them to collaborate with people who hold similar roles. Studies show that documenting and sharing goals increase the chance that those goals will be accomplished.2
To see TalentGuard's CareerPath in action as well as the rest of the powerful Predictive People Development talent management suite, contact us for a demo at 855-258-1040 or visit us at http://www.talentguard.com.
###
About TalentGuard, Inc.
TalentGuard transforms how companies attract, develop and retain talent so they can achieve sustainable growth. TalentGuard can help your company make better people development decisions and broaden and deepen your view of your internal talent network. Our Predictive People Development suite helps you hire the right candidates, track employee performance, give them insights into how they are perceived by others, identify high potentials, recommend learning plans and coach them to success.
1 – Deloitte's Talent 2020 report http://www.deloitte.com/view/en_US/us/Services/additional-services/talent-human-capital-hr/cd8431e3f337f210VgnVCM1000001a56f00aRCRD.htm
2 – Dominican University's study - http://www.dominican.edu/dominicannews/study-backs-up-strategies-for-achieving-goals