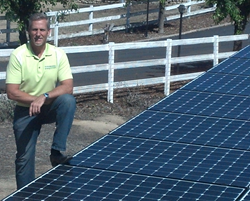 I am proud to be a part of helping our valued American veterans.
Murrieta, CA (PRWEB) March 31, 2014
The spring schedule for the week-long course, Entry Level PV Design and Installation, includes Monday through Friday, each week in April. During this time, Ambassador Energy College will grant a total of eight seats to United States military veterans, who are selected, based on a set of criteria established by The Veteran Advantage. The value of each course and North American Board of Certified Energy Practitioners [NABCEP] Entry Level test is $1295.00, which will be offered at no cost to the selected veterans. Upon passing the exam, graduates will receive achievement certificates from NABCEP, the "gold standard" within the solar industry.
Ambassador Energy executives are working with The Veteran Advantage to establish and streamline the interviewing process. "There are ten plus thousand veterans in our town alone," said Steve Fulgham, CEO of Ambassador Energy. "We will work with local government agencies to find candidates who are looking for careers in solar. Obviously, the demand is going to be high, and our scholarships won't even scratch the surface. But, it is a positive step into a direction that we are moving toward with sincere enthusiasm. These eight students will be a beta test of great things to come. I am proud to be a part of helping our valued American veterans."
The Ambassador Energy College Entry Level PV Design and Installation course includes:

32 hours of live instruction
Lesson reviews
Multiple Quizzes (over 200 practice questions)
NABCEP Entry Level Exam, administered on the last day of class
Interested U.S. veteran candidates should email info(at)theveteranadvantage(dot)org with "Scholarship" in the subject line.
About Ambassador Energy
Ambassador Energy [AE] has a three-pronged business model, which includes Ambassador Energy College Solar Training, the Ambassador Energy Agency Program and the installation arms, Ambassador Energy and Ambassador Solar. On staff are NABCEP Certified PV Installers, NABCEP Certified PV Technical Sales professionals [Fulgham/Kelso] and multiple NABCEP EL graduates. AE holds California licenses General Contractor B, C10 Electrician and C46 Renewable Energy. Ambassador Energy is IREC/ISPQ accredited. AE Agencies are nationwide. Ambassador Energy installs residential and commercial PV systems throughout California and the US.
About The Veteran Advantage [TVA]
TVA is a non-profit organization, focused on helping military veterans (Active/Guard & Reserve) obtain careers in the renewable energy sector by recruiting, facilitating PV training and ultimately providing placement services, at no cost to the veteran. Leadership, integrity and commitment are core values of the military veteran. These traits define "the veteran advantage"; an advantage that provides your business the edge and continuity of workforce required to meet today's challenges.