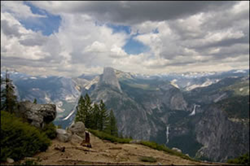 Watching birds and wildlife against this scenery topped all my bucket-list expectations for California. Coming from the East, I added twenty life birds, saw a Black Bear, watched Ravens roll in front of Half Dome, an American Dipper…. How do you top this?
San Francisco, CA (PRWEB) April 01, 2014
Company owner Peg Abbott says, "Yosemite is a perfect environment to search out birds classic to the Western US, and the chance to see a Black Bear, a magnificent male Mule Deer buck, or a Yellow-bellied Marmot resting in the sun against the this kind of scenery makes every day feel like one is on safari." In 2015 the company will add spring and summer departures. This year the trip occurs in autumn, and is timed for waves of bird migration that bring northern breeders down the Sierras as they return to winter terrain to the south.
Guide Greg Smith cites some of the Naturalist Journeys Yosemite and Sierras Wildlife and Birding tour's past client favorite sightings: flocks of Mountain Bluebirds grouped up in the high open meadows by Bodie ghost town, a Northern Goshawk encountered while hiking through pines, Mountain Quail posing on a photogenic downed log, a hungry Allen's Hummingbird trying to grab insects from a Red-breasted Sapsucker's sap-filled tree wells. Smith, a former career California park ranger, identifies species often by their calls, interrupting group conversation to point out Chestnut-backed Chickadees, or elusive and harder to identify species like Cassin's Vireos, and Gray, Dusky, and Pacific-slope Flycatchers. He says raptors are often the most popular, particularly Golden Eagles. "There is just something about that species that says Wilderness, Big Sky, Grandeur – iconic for the park and the American West."
The study of natural history in California is strongly tied to John Muir, champion of establishing Yosemite as a national park in 1890. Yosemite's park staff members continue that tradition today by monitoring bird populations in the park. They run banding stations at different elevations of the park, noting the timing of breeding, egg-laying, hatching, and fledging to track life-history variables of key species. Many mid-elevation species time fledging to July, when food is abundant there. Higher elevation species get a late start as nesting can't start until snow melt. Their young often don't try their wings out until August. Smith says Yosemite Birding and Wildlife tour participants in September often get to see family interactions in species such as Western Bluebirds, Oak Titmice, and Pygmy Nuthatches.
Naturalist Journeys' guided group tour will provide ample opportunity to hike, watch birds, enjoy photography, and learn history and geology with expert guide Greg Smith. Early fall, with beautiful autumn colors and fewer crowds, is a great time to delve into details behind the region's legendary scenery -- the mountain domes and escarpments, canyons, and lakes so spectacularly carved by glaciers. Perhaps the most iconic of the California's 26 national parks, Yosemite has an important spot in the history of public land in the United States. In 1864 President Abraham Lincoln signed the Yosemite Grant, the first instance of park land being set aside specifically for public use and preservation by the U.S. federal government.
Four days of the tour will be spent in Yosemite, where participants will hike at varying elevations, from the alpine down to the valley floor. With luck they'll find American Dippers, Common Mergansers, and Buffleheads along the river. They will visit the park's signature waterfalls, and hike in forests keeping an eye out for Williamson's Sapsucker, Lawrence's Goldfinch, and Oak Titmice.
Participants will also visit Mono Lake. Guide Greg Smith says, "Mono Lake and its briny water are home to tens of thousands of waterfowl as they make their way south from the wildlife refuges we visit in the western part of Nevada. Eared Grebe, Northern Shoveler, and California Gull are mixed in with thousands of phalaropes and other shorebirds. In nearby areas, we can also see great flocks of North America's heaviest bird, the American White Pelican, along with Sandhill Crane, Golden Eagle, and other species of raptors moving south for the winter. On the east side of California's Sierras, we also find some Great Basin desert specialties, such as Chuckar and Juniper Titmice."
Naturalist Journeys' UK partner also selects Yosemite National Park as one of its top U.S. destinations, citing Yosemite's global appeal. From naturalist John Muir to photographer Ansel Adams, this area has long captured the hearts of its visitors.
More about Naturalist Journeys' Yosemite and Eastern Sierras National Park Landscape Tour:
Yosemite Valley is the finest example of the power of glaciation in North America. The Mariposa Grove of Giant Sequoias is another sight not to be missed. These and other spots in Yosemite, combined with Mono Lake, views of Mt. Whitney, and other spots in the Eastern Sierras make this September 26 – October 3 tour special. The tour begins and ends in Fresno, California, and is limited to 10 participants.
More about Naturalist Journeys:
Naturalist Journeys LLC, a top birding and nature tour company, offers specialty small group tours and travel worldwide, from the western U.S. to Alaska, Hawaii and Florida, Trinidad and Tobago, Costa Rica, Panama, safaris in Africa and more. Naturalist Journey's guided nature and birding tours feature expert guides with decades of experience in birdwatching, travel photography and other forms of eco-tourism. Naturalist Journeys also offers hiking and adventure travel tours in many national parks and wildlife reserves, including the Galapagos, Antarctica and the Amazon.