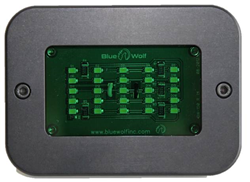 Starting with our first NVIS light in 2007, Blue Wolf made a commitment to design the highest quality lights on the market.
Boise, Idaho (PRWEB) April 01, 2014
The USCG Air Logistics Center (ALC) sought out sources to retrofit/upgrade the Grime B3550 light fixtures used in aircraft specifically equipped to perform USCG missions. Using Blue Wolf's Dome Lights to upgrade these older incandescent fixtures with NVIS White LED technology was of great interest to them. The USCG ordered several lights for testing and was extremely impressed by the quality, performance, and the ability to upgrade an existing fixture with the ease of changing a light bulb. Shortly thereafter, the Blue Wolf Rectangular NVIS White Dome light was approved for use and assigned a National Stocking Number. Blue Wolf recently delivered the first full shipment of Rectangular NVIS Dome lights to the USCG.
The NVIS Rectangular LED Dome light is one of the latest additions to the Blue Wolf product line. Being the industries thinnest dome light, it is very versatile and can be used in any application requiring area illumination or cabin lighting and complements the 14+ lighting products currently designed and manufactured by Blue Wolf. The versatility of the Rectangular Dome light for new installations, and upgrades to existing Grimes B3550 fixtures, simplifies and reduces inventory costs because the light can be stocked for either application. Additionally, LED longevity and durability against vibrations is exceptional. With low LED heat output, the life span of this light will provide 40,000 to 50,000 hours of illumination.
Constructed out of machined aluminum and utilizing the latest LED technology the Blue Wolf Rectangle Dome Light is designed for superior performance and durability. This light comes with a BA15 male connector for a drop in replacement of the BA15 incandescent bulb used in a Grimes B3550 fixture. For applications that require a new installation, a thin mounting plate is included and then the BA15 connector can be removed for direct wiring.
Technical Data:
Operating Voltage 28 Vdc
Operating Current 120mA
Mass: 0.16 lbf
DOD-160 tested
NSN: HSCG38-14-P-010186
Features:
Used for Grime B3550 retrofits
Used for new installations, thin profile
Low heat output (LED light)
Color options available
"Starting with our first NVIS light in 2007, we made a commitment to design the highest quality lights on the market. No competitor can compete with the quality of the Blue Wolf products. The incredible customer feedback we have received drives us to continue with our commitment." - Dennis Sand (Co-Founder)
Headquartered in Boise, Idaho, USA, Blue Wolf is widely recognized as an industry leading designer and manufacturer of advance lighting products. Every light is produced in Idaho and tested to ensure we deliver the highest quality products.
For more information, please visit the Blue Wolf website http://bluewolfinc.com.
Media Contact: Ty Plowman, Blue Wolf Inc., 208-629-5222, info(at)bluewolfinc(dot)com