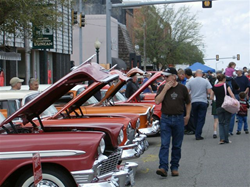 Duncan, OK (PRWEB) April 08, 2014
Main Street Duncan is ready to rock, rumble and squeal a few tires as their annual Cruisin' The Chisholm Trail Car Show approaches.
Motorheads of all ages will be in their glory April 18th and 19th as Historic Main Street Duncan's Seventh Annual Cruisin' The Chisholm Trail Car Show hits the pavement downtown. The event will have vendors, multiple classes of cars, trucks and motorcycles, a kid's car show, music from the classic rock band "Classic Recall", plus the famous Jet Fire Truck not only on display, but participating in the Friday Night Burn Out. And that's just the start.
Friday kicks off with a Bright Lights, Bright Nights Cruise at 6 pm and a Tailgate Party. Register at 10th and Main beginning at 4:30 pm. Saturday registration begins at 8 am and closes at 10 am, with the judging of all classes starting at 11 am. For $20/registration you will get a totally rad goody bag, a dash plaque and a good time. Awards for Best Paint, Best Engine, Special Interest, Under Construction, Unique Tag and, of course, Best in Show, are only a few of the many awards that will wrap up the event around 3 pm on Saturday afternoon. The categories this year are:
CAR - Rat Rod, Street Rod(pre '49), Antique (pre '35), Chrome and Fin (49-63), Muscle (64-72), Stock 73-90, Stock 91-up, Modified 73-90, Modified 90-up, Modern Muscle (98-up), Tuner, Low Rider.
TRUCK - Antique (pre 35) , Classic (36-48), Stock 49-72, Stock 73-90, Stock 91-up, Modified 49-72, Modified 73-90, Modified 91-up, Mini Truck, 4X4 pre 87, 4X4 88-up, 4X4 Off Road.
MOTORCYCLES - Stock, Chopper/bobber, Antique pre 64, Trike, Sport bike.
SPECIAL AWARDS - Under Construction (can also enter in class competition), Best Paint, Best Engine, Best in Show, Best Interior, City of Duncan pick, and other possible sponsor picks.
The Kid's Car Show can include go-karts, bikes, powerwheels, pedal cars, just anything that the kids would ride.
So mark your calendars as it is sure to be an amazing weekend, as Duncan is a great weekend get away and the Cruisin' The Chisholm Trail Car Show will have fantastic spring weather to make the event truly a wonderful family affair. Inclement weather date is set for April 25th and 26th if needed. So hurry on down to Duncan, OK for an amazing car show and a guaranteed good time.