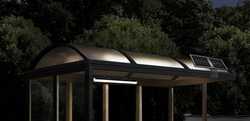 Richard Cohen, Velodome's president says that, "The solar light kit provides an easy and inexpensive answer to nighttime shelter security and is in keeping with our company's commitment to sustainable solutions."
Clifton, NJ (PRWEB) March 31, 2014
Velodome Shelters, a manufacturer of bicycle parking shelters and bike racks, has introduced a low cost solar light kit that provides nighttime safety for cyclists and their bikes.
The ultra- compact (8"x19") solar panel provides dusk to dawn operation of up to 36 hours or 3 nights of light with its quick charge lithium battery pack built into the solar panel. Each 24" light fixture is waterproof, has 48 super bright LED's and a protective cover.
The light kit is offered as an option with its Guardian, Europa Compound, VeloPark, VeloMax and Transit bike shelter models. In addition, a universal mounting bracket can retrofit several other types of shelters already in the field. The number of light kits recommended depends on the shelter size, configuration and brightness desired.
Each kit comes packed in a 25" x 13" x 3" carton, ships UPS and installs in minutes with quick connect wiring and 8 screws. Light specifications are available on the company's website, http://www.velodomeshelters.com.
About Velodome Shelters
Velodome Shelters specializes in innovative bicycle parking shelters and high-security bike racks that protect bikes from the elements and deter theft. Their clean, contemporary styling makes a highly visible statement about a company or institution's values and commitment to alternative transportation.
Bicycle Parking Solutions for a Greener World™