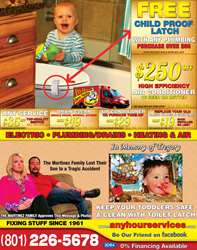 If we can save even one child's life by working together on this campaign, we have done something well worth fighting for
Orem, Utah (PRWEB) April 01, 2014
In response to a local news story run about a grieving couple's complaints against one of their ads, Any Hour Services, an electric, plumbing, heating & air company in Utah, announced today that they will be launching a new safety awareness campaign in partnership with the couple who voiced their complaints so bravely.
The news story featuring Vince and Lark Martinez first aired on a Utah news station the 18th of March. The focus of the news story, for the Martinez family, was to point out the unsafe circumstances which the ad run by Any Hour Services promoted. The ad in question featured a child playing above an open toilet with a rubber duck followed by the tagline "No Job Too Small, We Fix It All!". Speaking from experience, the Martinezes pointed out that the ad was no laughing matter as their own son had passed away from the exact same situation being displayed by the ad. In 1994, the Martinezes' then-14-month-old son, Tregory, lost his life after he had leaned too far over the toilet bowl, fell in, and was unable to pull himself out. Tragory sustained massive brain damage and later died as a result of his injuries.
Lark Martinez described a feeling of shock after seeing the ad in her mailbox. She contacted Any Hour Services about her concerns and spoke with a representative in their marketing department who stated that pulling the ads would be very hard to do, and that the purpose of their ad was only to be relatable to parents because their company gets hundreds of calls a year as a result of children flushing toys down the toilet. Not satisfied with the response she received, Lark then decided to turn to her local news station to tell her story and to point out the real dangers posed by the ad.
After the story aired, both the Martinez family and Any Hour Services instantly began receiving a massive amount of public feedback, both positive and negative, as well as hundreds of private messages.
Lark described some of the feedback that she received as insensitive and hurtful, but said that there were also plenty of people who showed their support and cared about the message she was trying to send about their own loss and the valid concerns she had about the ad.
After contacting the Martinez family, Wyatt Hepworth, the owner of Any Hour Services, apologized to the Martinez family for the ad and the pain it had caused their family. He released a public statement of condolences and also promised that he would do everything he could to immediately remove the ad wherever possible.
Taking their conversations one step further, Wyatt and Lark together began to formulate a toilet hazard awareness campaign. At Lark's request, Any Hour Services will not only run awareness ads in their local papers and online to point out the dangers of allowing young children to play near unlocked toilets, Any Hour Services will also be offering a free child-proof latch with any plumbing purchase over $50. Instead of distributing ads that feature a toddler around an open toilet holding a rubber duck, the new ad campaign will feature the same child holding the rubber duck, only the toilet will be now be safely clamped shut with a childproof lock followed by a picture of Lark and Vince Martinez offering their own statement about child and toilet safety.
"We are working together and I feel very blessed for this situation," Lark Martinez said Thursday. "I feel really confident that so much good is coming out of this."
Together, the Martinez Family and Any Hour Services hope to leverage the public attention they have received to help save lives.
Wyatt stated that "If we can save even one child's life by working together on this campaign, we have done something well worth fighting for."
For more information about this article and Any Hour Services visit http://www.AnyHourServices.com.
About Any Hour Services
Any Hour Services is one of Utah's largest Electric, Plumbing, Heating and Air companies and has been serving the residents of Utah since 1961. They have won awards such as the consumer "Best of State" and the "Parade of Homes Quality Workmanship" awards. They pride themselves on providing top of the line customer service and upfront pricing and around the clock service.