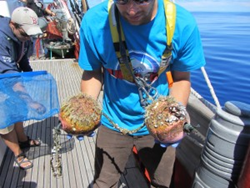 Since 1986, plastics data has been consistently collected by undergraduate students aboard SEA sailing school vessels.
Woods Hole, MA (PRWEB) April 03, 2014
The recent discovery of the ocean "Plastisphere" an ecological community of microbial organisms living on plastic debris in the oceans, resulted from the samples collected by undergraduate students studying abroad with SEA Semester®, operated by Sea Education Association (SEA) in Woods Hole, Massachusetts. Dr. Erik Zettler, Associate Dean for Institutional Relations and Research and a Professor of Oceanography at SEA, recently published a paper detailing the Plastisphere discovery in the journal Environmental Science & Technology in collaboration with Dr. Tracy Mincer, an Associate Scientist at Woods Hole Oceanographic Institution and Dr. Linda Amaral-Zettler, Associate Scientist at the Marine Biological Laboratory and Associate Professor at Brown University. According to Dr. Zettler, "The research we presented could not have been done without the hard work of the undergraduate researchers who continue to contribute to the project. There are over 5,000 marine scientists from around the world here and we were very happy with the interest in and feedback during the dedicated session we organized on 'The Science of Plastic Marine Debris and other Anthropogenic Influences'." Due to growing interest in ocean pollution and its environmental and human impacts, the science of ocean plastics is a rapidly evolving field, fast becoming an important topic in ocean environmental research.
SEA's collection of over twenty-five years' worth of plastics specimens– gathered during SEA Semester® undergraduate voyages– is aiding this and other research conducted by oceanographers across the world. SEA possesses one of the most complete long-term data sets of plastic marine debris in the world. Since 1986, plastics data has been consistently collected by undergraduate students aboard SEA sailing school vessels in the same ocean locales throughout the North Atlantic Ocean and since 2001, in the Pacific Ocean.
While SEA Semester® offers a wide variety of undergraduate study abroad programs and all voyages collect and study plastic marine debris, the Marine Biodiversity and Conservation program has dovetailed most directly into the Plastisphere research. In the last two years, nine undergraduate students have conducted research projects on the Plastisphere during this program. One of these students is Ethan Edson, a junior at Northeastern University in Boston. Edson, currently working towards his Bachelor of Science degree as a Marine and Environmental Science major, participated in SEA Semester's Marine Biology and Conservation program in the spring of 2013. Of his experience with SEA Semester, Edson says, "SEA Semester opened my eyes to marine and oceanographic research. My time there really helped to solidify my interests. To be out there [at sea], getting your own samples, doing the processing on your own, and not just using specimens out of a mail-order catalog- that really helped open my eyes to the plastic pollution in the ocean." As part of Northeastern University's experiential-focused curriculum, Edson is spending this spring semester working at Woods Hole Oceanographic Institution in an internship. Following graduation, Edson plans to attend graduate school, continuing to pursue a career in Biological Oceanography.
About SEA/SEA Semester®
Creating Ocean Scholars, Stewards & Leaders Since 1971
Sea Education Association (SEA) is an internationally recognized leader in undergraduate ocean education. For more than 40 years and over one million nautical miles sailed, SEA has educated students about the world's oceans through its fully accredited study abroad program, SEA Semester®.
SEA Semester® is the leading off-campus Environmental Studies program focused on the oceans. SEA Semester creates environmentally literate leaders who are prepared to address the defining issue of the twenty-first century: the human impact on the environment. SEA looks for motivated students of all majors who are passionate about learning, willing to seek out new challenges, and eager to become part of a unique learning community.
SEA/SEA Semester® is based on Cape Cod in the oceanographic research community of Woods Hole, Massachusetts and has two research vessels: the SSV Corwith Cramer, operating in the Atlantic Ocean, and the SSV Robert C. Seamans, operating in the Pacific.
For more information on SEA Semester® programs, please visit http://www.sea.edu/programs or contact one of our Admissions Counselors at 800-552-3633 x770 or admissions(at)sea(dot)edu.