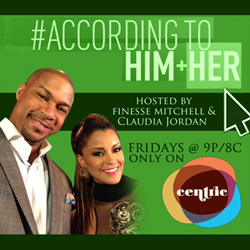 According to Him + Her
Houston, TX (PRWEB) March 31, 2014
He's got the touch! Finesse Mitchell from Saturday Night Live, The Shaq All-Star Comedy tour, Arsenio Hall, "Bethenny", and China's dad "DARRYL" on the hit Disney Channel show "ANT FARM", is now hosting the new Centric Show "According to Him & Her".
Finesse Mitchell and co-host Claudia Jordan approach topics of relationships, friendships, dating and sex in a "He said, She said" battle of the genders, giving viewers the opportunity to finally see how the opposite sex thinks. This no holds barred style plays out as friendly gossip edited as conversational banter.
Mitchell, a fifteen year stand-up comic veteran who started on B.E.T's Comic View and Saturday Night LIVE Alum is also taking his act on the road. His comedy show has been all across the country and his recent shows were all sold out! Mitchell will be showcasing his talents in upcoming shows in Toledo, Pleasanton, Chicago and Baltimore.
"According to Him + Her" is currently on Centric TV, Fridays at 9P/8C. Click the link for a preview or go to FinesseMitchell.com for more information: http://www.centrictv.com/shows/according-to-him-her.html