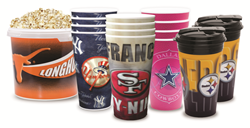 Show BRAX your spirit! Take a selfie of your SpiritCup in a great location and post it to Facebook or Instagram using the #CheersBRAX hashtag. You could win your favorite NFL gear and BRAX products.
Wilmington, NC (PRWEB) April 02, 2014
BRAX Fundraising knows how fans want to show real team spirit, offering products people truly want to buy to help kids raise money for their schools and teams. BRAX Fundraising's high-quality SpiritCups and SpiritTravelCups, as well as SpiritPopcorn tubs make any tailgate tops. What fan couldn't use more team gear, and support a child's soccer team or school at the same time?
With "making a difference" as its mission, BRAX is now celebrating its 15-year anniversary of helping schools and youth sports teams raise funds—more than $30 million to date. All thanks to its line of reusable BPA-free plastic SpiritCups, insulated SpiritTravelCups and SpiritPopcorn buckets embellished with logos of the National Football League (NFL), Major League Baseball (MLB), 100 major colleges and all branches of the U.S. Military. The thirst for these products, all made in the U.S.A., is helping schools and youth organizations reach their fundraising goals.
It all began as a simple idea to raise money for a cheerleading team, and grew into a formidable fundraising company in just a decade and a half. Owners Peter Hexter and John Alexander were running a small outfit manufacturing NFL steins and other products when Hexter's daughter, Jillian, needed donations for her cheerleading team. Hexter decided she should fundraise on her own, rather than asking him to write another $200 check. He decided to jumpstart her sales by giving her 100 extra Tampa Bay Buccaneer steins he had laying around his office and suggested she sell them. She did just that outside a Florida grocery store, and in two hours made $1,000—far more than her goal of $200.
This launched the idea for BRAX Fundraising. In 2004, BRAX became the first company to license powerful sports brands to help youth organizations raise money for uniforms, equipment and travel expenses.
And then a pilot program in 2005 with Pop Warner, a nationwide youth football and cheer organization, yielded tremendous results. An initial goal of selling 25,000 NFL-licensed SpiritCups was tripled, with sales of more than 75,000 cups. This success encouraged the NFL and Pop Warner—the first of many loyal partners—to support and believe in BRAX's passion for fan-based fundraising.
"We saw firsthand the power of the licenses and the thirst of the fans to want as much gear in their favorite teams as possible," Alexander says.
Hexter and Alexander decided to expand their SpiritCup designs to offer professional baseball with the help of a friend—former NFL Quarterback Boomer Esiason. Esiason was instrumental in helping BRAX score MLB licensing in 2005, and to show their appreciation, BRAX began contributing to the Boomer Esiason Foundation. The company has since donated more than $300,000 to the foundation, which was established to find a cure for cystic fibrosis.
In 2012, BRAX partnered with the National Dairy Council and the NFL on a new fundraising program called "Fuel Up Cups," which helps "Fuel Up to Play 60" schools raise money for nutrition and fitness initiatives. Since its inception, the program has raised more than $1.5 million for Fuel Up to Play 60 schools. With the help of the National PTA, which was added this year as another Fuel Up to Play 60 partner, BRAX is confident it can help schools raise millions more in the coming years.
"BRAX has always been heavily engaged in the youth population, and now with Fuel Up Cups, we're positioned to help with challenges that school communities across the country are facing—poverty, lack of breakfast and healthy food options, and lack of physical activity," says Hexter.
In an effort to celebrate its 15 years of shining the spotlight on the athletes, students, parents and volunteers who support BRAX, the company is launching a campaign called, "Show Us Your Spirit." Fans can upload photos or selfies with their SpiritCups in interesting locations or sporting events to Facebook or Instagram. It's a chance for fans to show BRAX the best tailgate spread, craziest game-day outfit or winning team on the field. When fans use the hashtag #CheersBRAX, they are entered in a contest to win $25 NFLshop.com gift cards or BRAX products featuring their favorite teams. For more details, see http://www.braxfundraising.com/cheersBRAX.
BRAX wants Americans to show their spirit and continue to support the fundraising efforts of our youth for the next 15 years and beyond.
For more information on BRAX Fundraising, please visit http://www.braxfundraising.com, or contact Kaylie O'Conner.