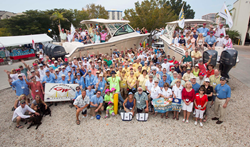 Participants put fun on the foredecks and camaraderie in the cockpits for this vivacious celebration of the The Grady Life.
Fort Myers Beach, FL (PRWEB) April 01, 2014
The sun was smiling and so were the faces of the over 300 Grady-White boat owners and enthusiasts attending Grady Fest IV, the weekend of March 21, 2014, in Fort Myers Beach, FL. The docks of Fish Tale Marina were lined with Grady-Whites ranging from 19' to 37', and from the opening docktails reception with live music and dancing on Friday to the Sunday morning raft-up in Estero Bay, participants put fun on the foredecks and camaraderie in the cockpits for this vivacious celebration of the The Grady Life boating lifestyle.
Billed as the "All American Grady Fest," this was the fourth gathering in five years of Grady fans from around the continent. Seventeen Grady-White Owners Clubs including the host Fish Tale Grady Club, and twelve Florida dealerships including lead sponsor Fish-Tale Sales and Service were represented, plus seven Grady factory executives were on deck including President Kris Carroll. Along with all-day fun and fellowship, there were lively presentations on boating lifestyle topics ranging from technical operations, product developments and maintenance, to sun safety, destination planning, fishing tips and boat handling. The main event tent welcomed Grady-White engineers, a Coast Guard commander, detailing pro and charter captain for engaging question-and-answer sessions. The Grady Lady tent was the scene for information exchange on travel, sportswoman fishing, docking procedures, sun protection and customizing-boatkeeping tips.
Throughout the festival, midway vendors represented boating services, suppliers and power manufacturers. A dermatologist offered free skin screenings, and the latest UPF clothing, coolers and nautical artwork and accessories were on sale. Registration proceeds were donated to the National Alliance on Mental Illness (NAMI) of Collier County.
A photo album highlighting the Grady Fest IV weekend and The Grady Life can be viewed at the Grady-White Boats Facebook page. Please contact Stephanie Salter for any high-resolution images.
There are 33 Grady-White Owners Clubs around the country. Clubs and other visitors are welcome to tour the factory in Greenville, NC, and meet the motivated craftspeople who build the ultimate outboard powered family-and-sportfishing boats. To find a club near you, sign up for a tour, and learn more about The Grady Life, visit http://www.gradywhite.com.