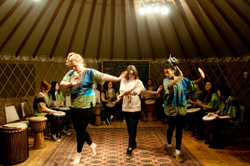 "Growing Up Greenbrier is the firsthand account of a journey from immaturity to maturity."
Pence Springs, West Virginia (PRWEB) April 02, 2014
Greenbrier Academy, a therapeutic boarding school for girls in West Virginia, is a place where girls learn to form healthy, supporting friendships and actively promote emotional, mental and academic growth. Many of Greenbrier's students have struggled with negative self-concepts and both academic and relationship defeating behaviors and beliefs.
These behaviors and beliefs sometimes manifest as anxiety, depression, low self-esteem, substance abuse, attachment issues, loneliness and more. Greenbrier girls benefit from a drug-free environment with a substance-abuse prevention component and an opportunity to develop positive, uplifting relationships while distancing themselves from the negative influences of their old environment. Greenbrier Academy provides all this and more, giving students the tools and instilling in them the drive to make this world a better place.
Through college prep academics, critical thinking exercises and advanced therapeutics, the residential advisors at Greenbrier work tirelessly with the students to help them achieve their potential and become healthy, happy young women who possess a commitment to a life purpose and higher self-esteem. A Greenbrier education puts heavy emphasis on positive, joyful relationships, and this shows through their classes and curriculums.
Although many girls arrive at the Academy feeling they are separate and alone, they quickly find that they are part of a family united by love, compassion and respect for one another. Like water, relationship is the most crucial element of life, the building block for health and happiness. Reinforced by a profound sense of self and an understanding of the importance of relationships, graduates of Greenbrier Academy go on to do great things.
Greenbrier Academy is proud to release one such student's E-book, Growing Up Greenbrier. The E-book tells the story of a young woman who was on the path to nowhere. Consumed by feelings of confusion, loneliness and anger, this young woman wasted away her days skipping school, drinking and partying. The relationship with her mother was seemingly beyond repair. With nowhere left to turn and her back up against the parental wall, the mother placed her daughter in Greenbrier's expert hands.
While the transition was far from easy, as told by the author, the growth she experienced due to Greenbrier's tutelage is remarkable. Growing Up Greenbrier is the firsthand account of a journey from immaturity to maturity, from purposelessness to purposefulness, from a victim to an agent; the reader will witness the transformation of a confused, lost girl into a confident young woman.
Growing Up Greenbrier is a living, breathing testament to the principles and philosophies of Greenbrier Academy, and can be downloaded from their website: http://www.greenbrieracademy.com. It is perfect for readers of all ages, and is a useful tool in bringing families closer together. Download it today.
About Greenbrier Academy: Greenbrier Academy is a therapeutic boarding school for girls in Pence Springs, West Virginia.