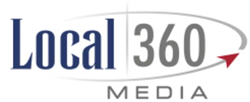 Local 360 Media truly represents our brand and future.
(PRWEB) April 07, 2014
Local Book Publishing, Inc. has been an industry leader in directory publishing since 2002. As an independent community oriented publisher Local 360 Media remains committed to producing the most accurate and complete print directories in the country. This commitment to quality and accuracy carries through all of their digital, online, and mobile advertising products.
"With this growing line of products, we feel that the new name, Local 360 Media, truly represents our brand and future," says Kevin Neuberger, COO of Local 360 Media. "Local Book Publishing has always focused on making the right sale rather than just any sale. We take pride in being trusted advisors who specialize in building customized advertising solutions that meet our clients needs….regardless of the advertising medium. This integrity and commitment to excellence will continue in everything Local 360 Media produces."
Local 360 Media engages with over one million people each year through print, internet, and mobile directories. Neuberger says, "We are excited to keep pace with the changing marketplace. We are excited about the future and what it will bring."