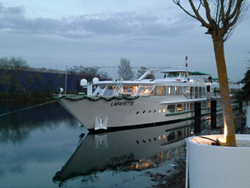 Nanuet, NY (PRWEB) April 04, 2014
River cruise ship MS Lafayette and two smaller canal barges, Madeleine and Anne-Marie were christened Friday on the Rhine river in Strasbourg, France. Ms. Mary Rose Reade is the godmother of the MS Lafayette, she is the wife of the US Consul in Strasbourg, Mr. Evan Reade. These ships are part of the CroisiEurope fleet which is marketed in the USA by Euro River Cruises.
The Lafayette, named for its historical significance to both France and the USA, has the fewest cabins and lowest passenger capacity of the full-sized river ships that CroisiEurope has built to date. The Lafayette will cruise between Basel, Switzerland and Amsterdam.
The 24-passenger canal barges, the Madeleine and Anne-Marie bring to 4 the number of barges cruising the canals of France. They represent a new direction for the value-oriented cruise line in terms of the size of its ships. According to one source, we want to "build comfortable ships that provide a familial spirit." Anne-Marie will sail in Provence and Madeleine will sail in the Alsace region of France. They already offer barge cruises in Champagne and Burgundy. These are the perfect vessels for extended family and small groups of friends. Barge cruise rates start at $2,400 per person or 24,000 euro for chartering the entire barge.
In 2015, three new ships will debut: the 100 passenger Rhone Princesse, the 96-passenger, shallow drafted paddlewheeler Loire Princesse, and the 132-passenger Gil Eanes.
Euro River Cruises is a pioneer in the river cruise business and has been representing European river cruise companies in the US, Canada, Australia, New Zealand, South Africa and Ireland for 15 years.
They offer a wide range of river cruise programs, from three to 29 days, on all of Europe's major rivers including the Rhine, Danube, Rhone and Seine. They also offer cruises on the Guadalquivir in Spain, the Douro in Portugal, the Po River in Italy, the Tisza in Hungary and the Garonne in France.
For more information, contact http://www.EuroRiverCruises.com.
Euro River Cruises, 365 Route 304 Nanuet, NY 10954, 1 (800) 768 7232