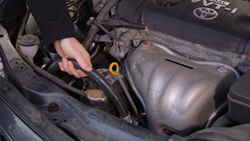 Lincoln, RI (PRWEB) March 31, 2014
April is National Car Care Month, and Amica Insurance is sharing some basic tips to help keep your vehicle running smoothly. Remember, maintenance should only be performed when the car's engine is off and has had time to cool.

Change the car's oil and oil filter, and check the oil level frequently.
Inspect the battery. Make sure cables are attached and free of corrosion, which can shorten the battery life.
Maintain antifreeze, transmission, brake and power steering fluids, and check your driveway or parking spot for possible leaks.
Keep the recommended amount of pressure in the tires, including the spare tire. Under-inflated tires will wear faster and provide poor traction. Also, inspect the tire treads by placing a penny in the tread. If you see the top of Lincoln's head, your treads are shallow and worn and should be replaced.
Check hoses and belts. Replace them if they're leaking or cracked.
Make sure headlights, brake lights and turn signals are all working properly.
If you think there is a problem with your car, take it to a mechanic as soon as possible. Smaller problems can become more serious – and costly – if they aren't taken care of early.
About Amica Insurance
Amica Mutual Insurance Co., the nation's oldest mutual insurer of automobiles, was founded in 1907. The company, based in Lincoln, R.I., is a national writer of automobile, homeowners, marine and personal umbrella liability insurance. Life coverage is available through Amica Life Insurance Company, a wholly owned subsidiary. Amica employs more than 3,200 people in 40 offices across the country.
CONTACT: Vince Burks, Corporate Communications, 50 Amica Way, Lincoln, RI 02865-1155, 800-652-6422, ext. 24563
Twitter: Amica
Facebook: Amica Mutual Insurance Co.