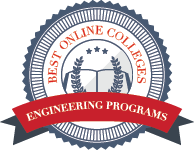 (PRWEB) March 31, 2014
BestOnlineColleges.org is a pioneer in online education resources. We support prospective students by making college and university information available for objective consideration. Ultimately, we want students to make smart decisions about what college experience is best for them, and we attempt to accomplish this through rigorous data collection, analysis, and ranking of the best programs out there today.
The Top Online Engineering Programs
Engineering and scientific education are important focal points of the United States government. According to a 2014 report by the Library of Congress's Congressional Research Service, 6.2 million people worked as scientists and engineers in 2012, with a mean annual wage of $87,330—this is almost double the mean annual wage for all occupations in the country. Engineering is a lucrative and consistently growing career niche, and will demand more college graduates well past 2020. For students who want to take advantage of this trend by obtaining an engineering education, many reputable colleges across the country have developed online degree programs to help increase the corpus of competent engineering professionals in the U.S.
Although some engineering disciplines require hands-on laboratory experience (chemical, mechanical, and biological engineering especially), many core engineering principles can be learned effectively through online instruction. This is beneficial for students who want a self-paced engineering education, or who want to get a technical degree while also maintaining their normal working schedules.
In response to the increase in both industry demand and availability of online engineering programs, BestOnlineColleges.org has sifted through comprehensive data points and surveys given by the National Center for Education Statistics (NCES) to provide 2014's Best Online Engineering Colleges. Our research has enabled us to find and rank 40 of the nation's schools.
This list takes into consideration elements like the amount of student debt required to cover tuition, graduate success and satisfaction, graduation rates, and instructor-to-student ratios. It is our mission to help guide prospective engineering students towards a well-informed decision about their college experiences that will influence their lives for years to come.
BestOnlineColleges.org's Best Online Engineering Programs of 2014 is published at http://www.bestonlinecolleges.org/best-online-engineering-degree-programs/. Schools featured include:
Air Force Institute of Technology Graduate School of Engineering & Management
Auburn University
Bradley University
California State University-Fullerton
Capitol College
Columbia University in the City of New York
Cornell University
Fairleigh Dickinson University Metropolitan Campus
Florida Atlantic University
George Mason University
Georgia Institute of Technology
Gonzaga University
Johns Hopkins University
Massachusetts Institute of Technology
Mercer University
Michigan Technological University
Mississippi State University
Montana Tech of the University of Montana
Naval Postgraduate School
Ohio State University
Pace University--New York
Pennsylvania State University--Penn State Erie-Behrend College
Pennsylvania State University--Penn State Great Valley
Polytechnic Institute of New York University
Purdue University
South Dakota School of Mines and Technology
Southern Methodist University
Southern Polytechnic State University
Stanford University
Stratford University
SUNY Binghamton
Texas A&M University--Corpus Christi
Texas Tech University
The University of Alabama
The University of Texas at Tyler
University of Pittsburgh
United States Merchant Marine Academy
University of Alabama at Birmingham
University of Toledo
University of Virginia