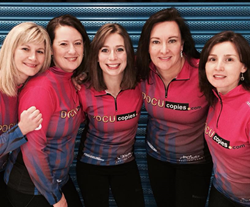 This is just the beginning of a new season.
Hudson, WI (PRWEB) March 31, 2014
The dust has settled, the medals have been awarded, and the Olympics are no longer the biggest piece of news coming out of Russia.
But for Docucopies.com and Team Erika Brown, the women's curling team who recently competed as Team USA in Sochi, this is just the beginning of a new season. The online digital printing company has sponsored the team for over a year and aim to support the curling community with future endeavors.
As a thank you for their support, the Olympians invited the Docucopies team to join them this May in a hands-on practice and training session in St. Paul, Minn., where they will learn the rules and techniques of curling from the masters themselves.
"This is a fun way to get more directly involved with the team and the sport itself rather than just sponsoring them and watching from a distance," says Marketing Director/Vice President Jeff Corbo. "We're honored to have the opportunity."
For more information on Team Erika Brown and women's curling, visit their Facebook page. For more information on Docucopies and their digital color printing services, visit them online at http://www.Docucopies.com or call (877) 222-4842.