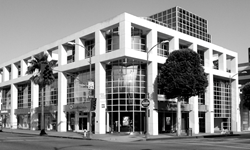 We've had to increase our staff as a result of acquiring some major new accounts...
Beverly Hills, CA (PRWEB) March 31, 2014
TRIXMEDIA, a boutique online marketing and advertising company in Beverly Hills, today announced the addition of graphic designer Tereza Svarcova Bellodi to its Beverly Hills office. Tereza is a recent graduate of American InterContinental University, where she majored in Graphic Design and graduated with a GPA of 3.9. In addition to creating graphics for the many websites TRIXMEDIA designs and builds, Tereza will be placing posts on various social media outlets and acting as a conduit between TRIXMEDIA's Beverly Hills creative team and their technical team in India.
TRIXMEDIA has also added an additional member to it's team of coders and web developers in India, which now totals 7 in number.
TRIXMEDIA is headed by its founder and CEO, Hirbod Human, who founded the company in 2009 as the sole proprietor. After establishing himself as a highly skilled graphic designer and photographer for accounts that included Coca Cola and Hilton Hotels, Hirbod opened the Beverly Hills office in 2010. In 2013 he added full time copywriter Ted Myers to the staff. Ted had been working for many years as an editor and copywriter, first in the music industry, and then as a copywriter/proofreader for advertising agency Weston Mason.
"We've had to increase our staff as a result of acquiring some major new accounts," says Mr. Human. TRIXMEDIA has just completed work on new websites for the Hilton Universal City hotel and Minnesota-based Cyrus Artisan Rugs, the largest purveyor of handmade Oriental rugs in the Midwest.
"We've recently completed development of a new shopping cart website platform called Goozga, and it seems to be a big hit. It's already being used by 6 retail businesses, so we're keeping quite busy," continues Mr. Human.
TRIXMEDIA is a full service advertising and marketing agency that specializes in designing and building websites and supporting them with online marketing solutions. Their slogan is "Creating Possibilities."