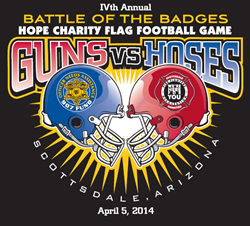 (PRWEB) April 01, 2014
Mark the calendar for Saturday April 5th at 6pm – Guns vs Hoses 4th Annual Hope Charity Football Game to benefit the POSA Outreach 907 fund and the Firefighters Charities at Chaparral High School.
What is the POSA Outreach 907 Fund?
The 907 Fund (also known as the Officer Needs Assistance Fund) is a program set up to provide financial assistance to the families of fallen or seriously injured law enforcement employees in the valley. The program was first created by POSA Outreach in order to help a Scottsdale police officer who was found to have a rare type of tumor where treatment was not covered by his insurance company. Finances from the fund (907 refers to the radio code for "officer needs assistance") helped the officer get the experimental surgery he needed, saving his life. This officer continues to serve the community today and is grateful for the help he received.
Since this first life-saving benefit, the program has grown in scope to include police officers, Scottsdale police employees, and their families dealing with family crisis, injury, or death. Financial assistance is also granted through the fund to fallen (or seriously injured) officers from other police departments in the Phoenix area.
The primary goal of the 907 Fund is to keep our best officers on the job, focused on protecting the community and fighting crime. Insurance does not always cover medical expenses for injury, especially if an officer is injured while off duty. Officers can find themselves struggling with big medical bills and the difficulty of providing for their families while they are off the job, recuperating. Making matters worse, there are few programs which offer aid in a case not involving death. The 907 Fund covers this unmet need, giving them support so they can recover more quickly and be back on the job serving our community. The fund also provides an additional benefit to the family of the officer in the tragic case of death
The program provides tremendous support to the police community when tragedy strikes. Yet it is the generous community donations that make the program possible in the first place. Additional avenues of generating support include Guns vs Hoses Football Games, Blades for Badges Hockey Games, car washes, car shows, and various other fundraisers. One of the many reasons for supporting the program is that 100% of donations go directly to the families – none of it is consumed by overhead. It is the goal of the 907 Fund, and the POSA Outreach program to help as many officers and families as possible.
-
About the 4th Annual POSA OUTREACH Guns vs Hoses Hope Football Game
Location: Chaparral High School, Scottsdale AZ
Cost: $5.00 ticket cost at gate
Date & Time: Saturday, April 5, 2014 - Gates open at 6pm....Kick off at 7pm
Donate Online: http://www.posacares.com/
Contact Cindy Hill, Executive Director @ 480-433-1101 or posaoutreach(at)hotmail(dot)com for more information.