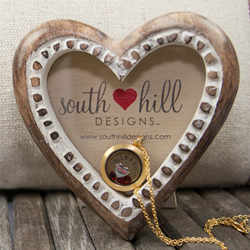 Our research indicates huge potential demand in the U.K. both for our products and for our home-based business opportunity. - CEO Brian Palmer
Scottsdale, AZ (PRWEB) April 02, 2014
South Hill, the Scottsdale-based home-party jewelry company, has announced plans to launch operations in the United Kingdom. Expansion across the Atlantic follows a highly successful launch in Canada.
"We will be the first in the British market with personalized locket jewelry," says CEO Brian Palmer. "Our research indicates huge potential demand in the U.K. both for our products and for our home-based business opportunity."
The company has recently entered Canada where its growth has been "exponential," according to COO Joe Ochoa. "We always saw ourselves as an international company," he adds. "But we didn't expect to be crossing the Atlantic barely a year after launch. South Hill has been growing faster than our most optimistic projections."
The company celebrated its first anniversary on February 25th with its single biggest day of sign-ups. On that one day, South Hill added 531 new distributors (known as Independent Artists).
Looking forward, CEO Palmer sees further international expansion to come. "The concept of jewelry that tells your unique story is exciting to women everywhere. And the opportunity to make money with fun and creativity has universal appeal, too."
South Hill's business system is seamless across international frontiers, meaning that Artists in the U.S. who have friends in Canada or the U.K. can grow their home-based business long-distance.
"A huge part of the magic we offer is our friendly and supportive community," says Director of Sales Amy Faircloth. "Now we're beginning to grow a global family—but no matter how large we become, there will always be that feeling of friends helping friends. We're all about women together, encouraging each other to express themselves and enjoy more financial independence."