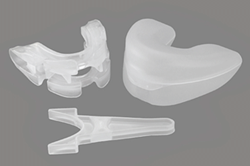 I had my doubts about it at first but after using it I became a believer. K. Waldon Ooltewah, TN
New York, NY (PRWEB) September 30, 2014
VitalSleep has helped thousands of snorers sleep better and quiet their snoring. Users continue to share their experiences that demonstrate how they have been able to achieve better sleep with their new FDA cleared mouthpiece for snoring. With it's adjustable design and comfortable fit, VitalSleep has been available to allow snorers and those that sleep along side them a more peaceful night sleep which translates into a more productive next day.
Michael Kelly from Omaha, NE shared the following review on how his anti-snore guard helped him
" I bought it mainly because I bite my tongue while sleeping. I used the retail night guards for a while and the were working. Somehow, my evil sleep control guy figured out a way to still bite my tongue even with the upper only guard. I was in complete despair as I cannot afford a $600 guard from the dentist, and my poor tongue was a mess and I could not sleep. I saw that this had a guard for the upper and lower and hoped it may work, and I snore pretty badly as well so that would be a double bonus! My wife often ends up in the other room.So far after 3 nights my wife has not really heard me snore at all and my tongues is bite free and healing well finally!! I will be a long time customer."
J.M Collins of Midland TX was very satisfied by the results of VitalSleep and even happier that her husbands snoring device was replaced for free after their dog destroy it. He shares his review.
"I just re-ordered for my husband. VitalSleep snore guard has quietened our home for a couple of years now. Hubby still can snore a little through guard but not nearly as loud as without it. You definitely stand by your replacement guaranty. Our doxie ate two of my husbands and you replaced no questions asked. Thanks for great customer service."
If you or someone you know snores, having a snoring product like VItalSleep can make a big difference in ending it. Learn more about it at http://www.vitalsleep.com.