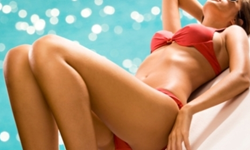 Beautify your body, smooth your skin and diminish cellulite with Cellulite Whisperer® products from Sublime Beauty®.
St. Petersburg, FL (PRWEB) April 02, 2014
Beautify your body, smoothen your skin and diminish cellulite.
Sublime Beauty® offers the Cellulite Whisperer® products, with clinically-tested organic products known to diminish cellulite dimpling. In addition, the ingredients smoothen and strengthen skin that has been weakened by toxins and dimpling.
"We have a website just for Cellulite Whisperer® with strategies, background and information to help tackle the problem," says Kathy Heshelow, founder of Sublime Beauty®.
Use coupon code CELLULITE25 at SublimeBeautyShop.com, which also offers free shipping in the continental U.S.
A free report about managing cellulite is available on the product page.
The products stimulate, detoxify and tighten skin while supporting dermal level. Ingredients such as organic Gotu Kola, Arnica, Almond, Dead Sea Concentrates and Grapefruit are included for powerful results while Retinol, Hyaluronic Acid, Papaya and Aloe smoothen and restore skin.
In addition to targeted products, skin brushing and massage help control or diminish cellulite as well, and of course, exercise, lots of water and a healthy diet will assist the efforts.
How to use: In the morning, apply and massage the Cellulite Whisperer® Gel to the affected areas after a bath or shower. After absorption, apply the Cellulite Lotion to continue the work. Then in the evening, before bed, repeat the process. Do this daily.
Some results will be seen at the end of 30 days, but most women need 60 to 90 days (or even more) to continue diminishing cellulite.
Use coupon code CELLULITE25 at SublimeBeautyShop.com checkout to purchase this week. The offer expires Sunday, April 6th, 2014.