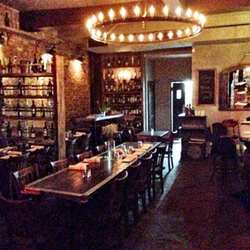 Tucked away in the busy streets of Nolita lies the quaint restaurant and wine bar balzem.
New York City, NY (PRWEB) May 30, 2014
Balzem Mediterranean Cuisine and Wine Bar opens in Nolita, New York City, offering a unique selection of courses rich with Mediterranean flavors and complemented by a comprehensive list of European wine pairings.
Tucked away in the busy streets of Nolita lies the quaint restaurant and wine bar balzem, offering a variety of Mediterranean dishes. Balzem's unique journey of the northern Mediterranean coastline begins with the celebrated culinary culture of Provence in Southern France, touches some of Italy's most elegant and refined cuisines in Sicily, and arrives all the way at the light and carrying flavors of the Aegean coastline. The experience is enhanced with a selection of wine or beer from these cultural regions.
Balzem, boasts a rich menu of small plates or mezes, including signature plates such as the branzini ceviche, shrimp artichoke dip, ratatouille, zucchini pancakes, Sicilian meatballs, and potato gratin with truffle. Balzem main courses include specialties such as the chicken farci, grilled lamb chops, ribeye brochette, and shrimp casserole. The menu is designed around vegetables including zucchini, eggplant, peppers, bean, grape leaf, onions, garlic, scallion and tomato, supplemented with fresh herbs such as parsley, dill, and basil and in many instances finished with strained yogurt, olives, lemon and vinegar. Mediterranean dry herbs and spices such as cumin, dry mint, sumac, allspice, white peppers and thyme are used selectively and enhance the flavor and create a unique experience. Olive oil plays a key role in just about every dish served at balzem.
Wine offering includes a wide variety of white, red and rose to complement the cuisine and ambiance. French wine regions such as Alsace, Languedoc, Burgundy, Bordeaux, Beaujolais, and Rhone, as well as select regions of Italy and Spain are represented in the selection.
Balzem offers a unique experience for the diner to relax and celebrate the rich cuisine and culture of the Mediterranean coast in a rustic but elegant setting. The fifty plus seater dining and bar area is decorated with wooden table-chair sets, a unique bar design, lounge style benches, and large common tables blending the local Nolita vibe with the cultural origins of the cuisine. While metal finishes on shelves, tables and the bar area are inspired by the middle age European architecture, the original brick walls of the pre-war Nolita building have been uncovered in an attempt to preserve the local flavor. The ambiance is further amplified with iron lighting fixtures, wall ornaments, wine racks and rustic metal French doors on the front facade.
Balzem is located at 202 Mott Street, between Spring Street and Kenmare, and is open seven days a week for lunch, brunch and dinner. For reservations contact our phone line at (646) 837-7033 to speak to a representative, or our website at http://www.balzem.com for an online booking.