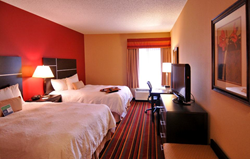 Hampton Inn Loveland hotel is accepting reservations for University of Northern Colorado's Commencement Weekend.
Fort Collins, CO (PRWEB) April 21, 2014
The Hampton Inn Loveland hotel is looking forward to welcoming guests to the area for the University of Northern Colorado commencement weekend in May. Family and friends visiting the local area for graduation will enjoy the hotel's close proximity to the school as well as Fort Collins. Guests of the Hampton Inn Loveland hotel delight in the abundance of amenities, including the free On the House Hot Breakfast Buffet, flat screen television, indoor swimming pool, a signature Hampton bed, and much more.
Guests interested in making a reservation for Commencement Weekend are encouraged to do so while there is still availability by calling the hotel directly at 970-593-1400 or by booking online through the hotel website.
Situated in Colorado's natural splendor, the Hilton Hampton Inn Loveland hotel serves as a great connecting point to the many wonders of the Denver/Boulder area. The hotel is within easy reach to the Rocky Mountain National Park, one of the country's most majestic sites, as well as Estes Park, Poudre Canyon Scenic Highway and the scenic rock formations of Devil's Backbone. Guests can also easily take in the arts and culture of the area, as the hotel is conveniently located near the Edora Ice Center, the Budweiser Events Center, the Benson Sculpture Park and the Loveland Historical Museum. Enjoy amenities like in-room coffee makers, free high-speed Internet access, exercise room, swimming pool, business center and much more.
Founded in 1991 by Navin C. Dimond, Stonebridge Companies is a privately owned, innovative hotel owner, operator and developer headquartered near Denver, Colorado. The company's current portfolio entails 45 hotels with over 7,000 rooms nationwide. This diverse portfolio includes select-service, extended-stay, mid-scale and full-service hotels in markets throughout the U.S. For detailed information, visit our website at http://www.SBCOS.com.