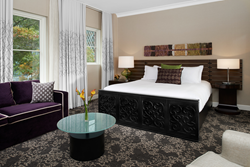 The new look and feel really embraces our position as the gateway to Washington wine. Our guests will have the true wine experience from the moment they walk through our doors.
Seattle, WA (PRWEB) April 01, 2014
Kimpton's Hotel Vintage Park has transformed into the Hotel Vintage, with a multi-million dollar renovation and top-to-bottom redesign. Each of the 125 newly re-imagined guest rooms are named for a Washington winery, highlighting a strong partnership with local vintners who pour nightly at the hotel's hosted wine reception.
Guests will feel this dramatic change when stepping into the lobby, now reminiscent of a tasting room, emphasizing Washington as one of the top wine-producing states in the country. A metal sculpture running across the ceiling suggests the look of a grape arbor and two wall-to-wall wine racks house bottles of the best Washington wines.
"We couldn't be more proud to raise a glass to this transformation," said Tom Waithe, regional director of operations for Kimpton Hotels of the Pacific Northwest. "The new look and feel really embraces our position as the gateway to Washington wine. Our guests will have the true wine experience from the moment they walk through our doors."
Seattle based Dawson Design Associates transformed the hotel, using the European history of wine as inspiration, and blending it with a casual, Northwest look and feel. Quotes about wine from notable people decorate the walls of the hotel. The guestrooms embody the spirit of wine with rich colors and textures, seen in a vibrant purple couch and drapery that give a nod to climbing vines.
More than 88,000 recycled wine corks in a variety of colors make up one-of-a-kind cork board art behind each guestroom bed. To satisfy the most technically advanced guests, each room also houses an Obsess system, allowing movies, music and more to go from a smartphone right to the room's LCD TV.
Watch the transformation from Hotel Vintage Park to Hotel Vintage unfold here.
The Hotel Vintage has partnered with 12 of the leading wineries in the state, spotlighting their prominence by featuring their wines in each respective dedicated guest room and on the in-room dining menu. Each of the 12 partners, known as the 'Grand Cru' collection, will pour at the nightly wine hour at least twice a year.
The wineries include Alexandria Nicole Cellars, Chateau Ste. Michelle, DeLille Cellars, Dunham Cellars, Kestrel, L'Ecole, Long Shadows, Pepper Bridge, Sparkman Cellars, VaPiano, Waters Winery, and Woodhouse Wine Estates.
The Hotel Vintage, a Kimpton Hotel is located at 1100 5th Avenue in Seattle and is one of the city's most iconic hotels. For additional information, visit http://www.hotelvintage-seattle or call (206) 624-8000.
ABOUT KIMPTON HOTELS & RESTAURANTS
San Francisco-based Kimpton Hotels & Restaurants is the leading collection of boutique hotels and restaurants in the United States and the acknowledged industry pioneer that first introduced the boutique hotel concept to America. In 1981, Bill Kimpton founded the company that today is renowned for making travelers feel genuinely cared for while away from home through thoughtful perks and amenities, distinctive design that tells a story and inspires a sense of fun at each hotel and a sincerely personal style of guest service. Out to help people live full, balanced lives, Kimpton aims to inspire with touches like yoga mats in every room, complimentary coffee and tea to start the day, hosted evening Wine Hour, in-room fitness programming and complimentary bike rentals. The award-winning restaurants and bars are led by talented chefs and bartenders that offer guests a chance to dine like a local. Kimpton also leads the hospitality industry in eco-friendly practices that span all hotels and restaurants, and is consistently ranked as one of the top companies in the Market Metrix Hospitality Index, Upper Upscale Segment, for Customer Satisfaction. The company is highly-regarded for its innovative employee culture and benefits and has been named a Fortune magazine "Best Place to Work" four times since 2009. Kimpton is continuously growing and currently operates 60 hotels and nearly 70 restaurants, bars and lounges in 26 cities. For more information, visit http://www.KimptonHotels.com and http://www.KimptonRestaurants.com.
# # #