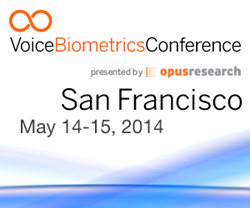 This is definitely the 'Year of the Bank' in terms of the use of voice biometrics for fraud reduction and secure authentication, especially for mobile and multi-channel activity
San Francisco, CA (PRWEB) April 02, 2014
Deployment of voice biometrics is accelerating among banks and financial institutions around world with Banco Santander Mexico sharing their experience at Voice Biometrics Conference San Francisco (May 14-15, 2014).
Jose Ignacio Zorilla, executive director of channels at Banco Santander Mexico, will provide insights into the process of developing a strategy, selecting vendors, and implementing a voice-based system for authenticating millions of callers into the bank's contact center.
"This is definitely the 'Year of the Bank' in terms of the use of voice biometrics for fraud reduction and secure authentication, especially for mobile and multi-channel activity," explains Dan Miller, conference chair and founder of Opus Research. "I'm very pleased that leaders like Banco Santander Mexico are ready to showcase their implementations and share their experiences."
Beyond Banks: Over 40 Million Registered Voiceprints
Financial services are one of a selection vertical markets that will be featured at VBC San Francisco 2014. Retail banks, brokerages and investment companies in Israel, Australia and North America were among the early adopters. They were followed by telecommunications companies around the world which now can claim over 40 million registered voiceprints. Promising use cases are being pursued in retailing, healthcare, insurance, e-government and a broad variety of enterprise settings.
Opus Research is proud to host Voice Biometrics Conference San Francisco (May 14-15, 2014) as the premier global event tackling the issues and opportunities for phone-based security and multi-factor authentication.
About Voice Biometrics Conferences (VBC)
First introduced in 2007 by Opus Research, Voice Biometrics Conferences are the only global venue dedicated to developments and adoption of simple, secure and trusted multi-factor identification and verification. VBC San Francisco 2014 will be the twelfth in this well-received global series, following successful gatherings in Washington, D.C., New York City, London, Amsterdam and Singapore, in addition to San Francisco.
About Opus Research
Opus Research, founded 1985, is an industry analyst firm focused on "conversational technologies," mobile search and e-commerce. The company's treatment and coverage of voice biometrics started in 2002. http://www.opusresearch.net.