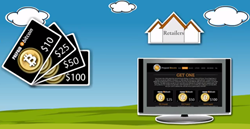 Our prepaid cards put Bitcoin within reach of the average consumer.
Toronto, Ontario (PRWEB) April 02, 2014
Prepaid Bitcoin offers a simple, streamlined solution for consumers seeking to leverage cryptocurrency. When asked about the purpose of the Prepaid Bitcoin cards, Josh Agho, CEO and founder of Prepaid Bitcoin, replied, "Our prepaid cards put Bitcoin within reach of the average consumer, and make it easier for them to purchase smaller amounts of Bitcoin."
With four different dollar denominations, consumers can easily purchase the desired amount of Bitcoin. They can choose from $10, $25, $50 and $100 Prepaid Bitcoin card denominations. Each card is loaded with the corresponding amount of Bitcoin. For instance, if the Bitcoin current market price is $500, a $25 Prepaid Bitcoin card would hold approximately 0.045 BTC.
In addition to ensuring that using Bitcoin is easier and more accessible for consumers, Prepaid Bitcoin also offers unique incentives for retailers interested in carrying their cards. "We have an attractive revenue share model for retailers and distributors," said CEO Josh Agho about the company's drive to build mutually beneficial relationships with retailers. "Bitcoin is in very high demand, and bulk Prepaid Bitcoin cards give retailers an easy way to provide it to their customers."
To find out more about Prepaid Bitcoin, or to learn more about Bitcoin, visit: http://www.PrepaidBitco.in
Prepaid Bitcoin is a proud sponsor of the Inside Bitcoins - New York, Bitcoin Conference, which is taking place on April 7-8th.
Prepaid Bitcoin will also be exhibiting at The Toronto Bitcoin Expo on April 12-13th.
About Prepaid Bitcoin:
Prepaid Bitcoin was created to bring simplicity and ease of use to the world of cryptocurrency. By combining the Bitcoin phenomenon with prepaid gift cards, the company provides an innovative solution for consumers hoping to take advantage of the growing acceptance for this digital currency, as well as resellers seeking a unique addition to their range of products.