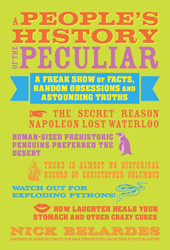 (PRWEB) April 01, 2014
Kooky, intriguing, and even downright bizarre, A People's History of the Peculiar: A Freak Show of Facts, Random Obsessions and Astounding Truths by Nicholas Belardes is a collection of random truths and mind-boggling trivia most people didn't know they wanted to know. Seasoned trivia junkies and curious minds will love the astounding array of real-world information, from historical oddities to the world's most mysterious nooks and crannies. Author Nicholas Belardes has devoted his life to digging up explanations for the unexplainable, and now his outlandish findings are available to mystify and delight readers with hours of entertainment.
To celebrate April Fools Day, why not submit a useless US Patent, like these two issued on the first of april of years past:
INSIDE-OUT CLOTHING: U.S. Patent No. 7350242 was issued on April 1, 2008. Someone who wore hand- me-downs must have invented this in a fit of vengeance.
DISPOSABLE BOXER SHORTS: U.S. Patent No. 6539554 was issued on April Fools Day 2003. As the patent says: "The need for clean underwear is universal."
Nicholas L. Belardes is a history professor, journalist, blogger and videographer. He writes several media blogs, including Noveltown's Paperback Writer and ABC23's Nick 2.0. His work has appeared on the homepage of CNN.com and other news sites all over America. He lives in Los Angeles.
What people are saying about A People's History of the Peculiar:
"Unique, bizzare, and a sure-fire conversation starter!"
-Country Bookshelf
"For fans of trivia and bathroom reading, A People's History of the Peculiar is 258 pages of facts, and funky frolic...Each section is filled with brief blasts of information everyone with an appreciation for the odd can enjoy."
-Bakotopia.com
"Nick Belardes is an imaginative writer with a truly new and unique voice--he will both startle and thrill you with his stories that pop out from the dark like the teasing dangers in Mr. Toad's Wild Ride."
-Jessica Anya Blau, author of The Summer of Naked Swim Parties, Voted 'Best Book of 2008' by The San Francisco Chronicle