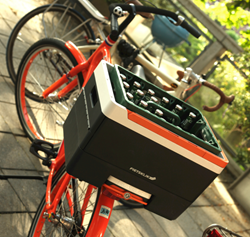 If your bike can do more, you can ride more.
Philadelphia, Pennsylvania (PRWEB) April 01, 2014
Fietsklik sped past the $50,000 mark on Kickstarter this week marking the global launch of its line of detachable city-aimed bicycle accessories. Founded originally as a beer carrying solution for bikes, Fietsklik (meaning "Bike Click" in Dutch) has evolved to feature products ranging from a wheeled and collapsible shopping basket, to bags and even a child seat, all of which click on and off the bike. The Dutch startup, whose Kickstarter campaign has more than a month left, says that this is just the beginning.
The spark of invention came for Fietsklik when co-founder Natha Wassink Smit dropped a crate of beer while riding his bike, damaging a car in the process. He realized that even though the number of errands done by bike were growing, the products made for those errands weren't much more sophisticated than a bag and many of them required screw drivers and wrenches to attach to the bike. He teamed up with engineering student Jeroen van Bemmelen and together they created a beer-carrying crate which could be clicked on and off the bike. It was then they realized that using the same method they could click on and off a huge range of accessories aimed at much broader needs.
"We realized people often wish they could ride but had to use their car or walk simply because their bike didn't have the carrying capacity. You can be the most avid cyclist in the world but it is very hard to compete with the trunk and backseats of a car. That is why we started Fietsklik, to help people ride more by allowing their bike to do more. That's why we made our detachable trunk-like Crate, Bags and Child seat. So with one bike you can go to work or do a full shopping trip and then with a simple click take your kid out on the bike or even click off everything so your bike is light and free again."
Their trunk-like Crate has been the driving force behind their sales, with over 300 sold on the Kickstarter alone. The Crate is a large wheeled basket which can be attached and detached to the rear rack of most any bike. When detached from the bike, it has an extending handle and can be wheeled directly into the store, eliminating the need for bags or even a cart. While the Crate is intended for carrying everything from groceries to high heels, it does follow in the footsteps of its predecessors and can carry a full case of beer.
With the rapid success of their Kickstarter campaign, Fietsklik is now able to finish off their product line and expand globally, with the U.S. being their first market outside of Europe. The US business is already under way with an office established in Allentown, Pennsylvania located strategically near both New York City and Philadelphia, both growing cities for bike use.
To support Fietsklik or to learn more about it visit Fietsklik's Kickstarter page at http://kck.st/NursUL. Interested buyers can get a Fietsklik system shipped to them anywhere in the world starting at $99 including shipping, 30% off the expected retail price.
About Fietsklik:
Headquartered in Amsterdam with offices in Allentown Pennsylvania, Fietsklik is a bicycle accessory startup aimed at reducing the need for cars by empowering the bike. For more information visit Fietsklik.com.