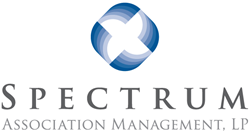 We are growing so quickly in Phoenix because we're different.
Phoenix, Arizona (PRWEB) April 01, 2014
Spectrum Association Management announced today that it is experiencing unprecedented growth in the Phoenix HOA management market.
The company announced today that it has experienced significant growth in the last two quarters in Arizona with the number of households it manages growing by more than 25%. The company has added numerous associations ranging from the large Mountain Ranch neighborhood near the new Apple manufacturing plant in east Mesa to luxury communities like Verona Condominiums in the heart of the Scottsdale shopping corridor.
"When we entered the Phoenix market a few years ago we knew our 'refreshingly different' customer service model was sorely needed here," said Russ Hill, Vice President of Business Development for Spectrum.
"Phoenix is home to dozens of HOA management companies and yet our research showed communities here were seriously disappointed in the quality of management services provided to homeowners associations," Hill said.
Spectrum Association Management was established more than 12 years ago and serves hundreds of neighborhoods. It prides itself on hiring what it calls "oddballs."
"We don't refer to them as employees. We have a team of oddballs. These are people who are wired in a way that causes them to deliver incredible service to our clients. They stand out as odd to board members and owners in homeowners associations because they are so different than the employees who work for our peers," Hill said.
Spectrum is one of the only HOA management companies in Arizona that doesn't outsource the training of its employees to industry trade groups. The company credits this fact with its abnormally high customer service scores.
"We are growing so quickly in Phoenix because we're different. Because homeowners and board members notice our employees treat them differently from the first time they call our office or visit our website," Hill said.
Spectrum is the only homeowner association management company in Arizona that promises a same day response to emails or phone calls. Hill said poor communication is one of the biggest problems plaguing the HOA management industry. "A human being in our office actually answers our calls and if for some reason we have to put someone to voicemail they will get a call back the same day," Hill said. Emails from homeowners, board members, and others are responded to the same day as well.
"We don't believe in making people wait to get an answer to their question," Hill said.
Spectrum said it works hard to keep its employees engaged by having a very healthy workplace culture. Its managers tend to stay with the company much longer than the industry norm.
The Business Journal recently named the Phoenix HOA management company one of the best places to work for the sixth year in a row. The company said employees tend to be much more positive in their interactions with customers when they thoroughly enjoy their job.
Spectrum Association Management manages HOAs in Scottsdale, Mesa, Gilbert, Chandler, Surprise, Goodyear, Glendale, and across the entire Phoenix metro area.