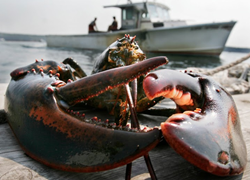 (PRWEB) April 01, 2014
For those who remember the story of David and Goliath, one little guy packed quite a punch on a pesky giant – and there was much rejoicing. Now, GetMaineLobster.com packs a culinary punch with an Eastertide special fit for a banquet: 6 Davids and 1 Goliath.
For this special, GML has detoured into the record books, by ditching the usual one-size lobster per order. This special boasts a Goliath 8-pounder—bigger than a wrestler's arm—plus 6 Davids weighing in at 1 to 1.25 pounds.
This one's definitely for the serious lobster lover, so lay out the mat, grab some bibs, sturdy lobster shell crackers, and five fellow lobster enthusiasts.
This coup de grace of lobster-eating events includes 6 (1- to 1.25 pound) 100 percent Hard Shell Maine Lobsters and 1 (8 pound) 100 percent Hard Shell Maine Lobster, shipped directly the same day, to be received within 24 hours, offered at $249 (a $120 savings).
GetMaineLobster.com Standards
Our live Maine lobsters are caught by Maine lobstermen/women, dedicated to preserving the sustainability of the Maine lobster industry and engage in practices that ensure its health. They are hand-selected with care and humanely by experienced lobster-handling experts and packaged with sustainable, environmentally-friendly materials.
In addition to this special offer, here are 4 ways to cook Maine lobster, offered by GetMaineLobster.com.
About GetMaineLobster.com
GetMaineLobster.com, a division of Black Point Seafood and Black Point Gourmet, hand-selects the finest Maine lobster, seafood and beef products for convenient distribution throughout the United States. Their passion is to make fresh, quality seafood readily available to customers across the country, which is why they buy from only the most trusted, well-established suppliers to ensure that they receive the finest products available.
GetMaineLobster.com was selected out of the more than four million small American businesses served by Chase bank to represent its new Platinum Business Checking product for its 2013 national advertising campaign.