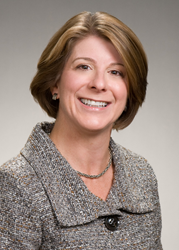 "Although we have endless options at our disposal, Andrea is always our first choice because she goes above and beyond, keeping the budget in mind." - Client Choice Guide - USA & Canada 2014
Boulder, Colorado (PRWEB) April 01, 2014
Holland & Hart LLP attorney Andrea Anderson was selected as the 2014 Lexology and International Law Office (ILO) Client Choice Award winner for Intellectual Property – Trademarks in Colorado.
Anderson was one of 251 individuals honored out of a pool of more than 2,000 client assessments conducted by senior corporate counsel surveyed for the awards.
In the Client Choice Guide - USA & Canada 2014, Anderson was specifically recognized by one client for being "hands down the most responsive, creative IP lawyer [the client has] ever worked with."
Another client states, "Although we have endless options at our disposal, Andrea is always our first choice because she goes above and beyond, keeping the budget in mind."
A third client adds, "Andrea and her team provide invaluable service to me and my team. They are responsive, sophisticated and show a genuine interest in understanding the sector that we operate in, our risk tolerance and our goals with respect to our trademark portfolio."
Clients were asked to rate lawyers and law firms on quality of legal advice, value for money, commercial awareness, effective communication, billing transparency, tailored fee structures, response time, sharing of expertise and use of technology.
Anderson provides a full complement of trademark-related services to an international clientele with an emphasis on strategic counseling and dispute resolution.
Among other honors, Anderson was named an "IP Star" and listed in the Top 250 Women in Intellectual Property by Managing Intellectual Property 2013, and The Best Lawyers in America® 2013 named her the Denver Trademark Law Lawyer of the Year.
About the Client Choice Awards
Established in 2005, the Client Choice awards recognize those law firms and partners around the world that stand apart for the excellent client service they provide. The criteria for the awards focus on the ability to add real value to clients' business above and beyond other players in the market. Uniquely, these awards survey senior corporate counsel only.
About Holland & Hart
Holland & Hart LLP delivers integrated legal solutions to regional, national and international clients of all sizes.
Since its inception in 1947, Holland & Hart's more than 470 lawyers have consistently been recognized by leading national and international peer and industry review organizations for innovation and dedication to the practice of law.
For more information, visit http://www.hollandhart.com.