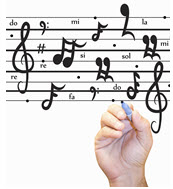 The wise musicians are those who play what they can master. -- Duke Ellington
Charlotte, NC (PRWEB) March 31, 2014
OYea Music (BMI) unleashes its sound on the web with the official launch of OyeaMedia.com. Since 1984, the OYea music brand has only served its local community (see "About OYea 2 Enterprises, LLC" below). Those were pre-internet days. This is the new millennium of 'interweb' computer devices, yet organic, cinematic, and eclectic-harmonic instrumental music is in greater demand than ever. Video has exploded as bandwidth limits rise steadily and quality sound is a prerequisite..
When the rush for the gates of fresh opportunity creates 'the noise', you can hardly hear yourself think. Consistently, the public votes with its attention span. Electronic music is more popular than ever worldwide. Still, the music beds that grab emotions, pageviews and go viral are organic music tracks. Search for the most effective ads in audio-visual media and the inspirational factor will invariably include an upbeat, happy musical production particularly in image driven ads. By the way, traditional rock music popularity is still crushing it because it's an organic music genre. Wouldn't you agree? Of course.
Amidst all the chaos of small business opportunity and the Pursuit of Health, Wealth, and Happiness, OYea 2 Enterprises, LLC exists to serve its following and embrace its mission. The quest continues. Drop in and have a look around. More valuable info can be found at http://oyea2.org .
About OYEA 2 Enterprises, LLC:
The mission of Oyea 2 Enterprises, LLC is to provide quality information on the pursuit of health, wealth, and happiness for raising self-awareness worldwide.
The vision is to express the mission through the distribution of information products (literature, music, and video) and related services. Oyea 2 Enterprises, LLC began its service to the Charlotte, NC community in 1984 as Oyea Music (BMI), a recording studio for solo musicians. Through the years, the mission has mushroomed to include composition, audio post–production, and video production. Since 1995, Woodson has engaged in self-disciplinary study of customer service and technical support. In the growing internet marketing space, transformations continue and the demands for ongoing education push the envelope more each year. For the last 21 months, Oyea Music has been focused on expanding its marketing efforts online. Consolidating its music, video, research, and writing expertise into one business entity, Oyea 2 Enterprises, LLC is the unified product engine.