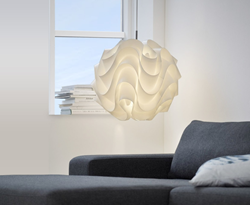 Sacramento, CA (PRWEB) April 01, 2014
Lumens.com announces its Spring Lighting Sale, where customers can save up to 45% off list prices on more than 25 top contemporary lighting brands for every room of the house. The sale will run April 1-15, 2014.
Exclusive discounts in the sale include 40% off all Illuminating Experiences lighting, a diverse collection of European lighting brands like Le Klint, Meltemi, and Nemo. Customers can also exclusively save on all lighting by Light Years, a Danish collection that includes the well-known Caravaggio Pendants.
Additional savings in the Spring Lighting Sale include:
Cerno: Designed and made in Southern California, Cerno blends industrial design, natural materials and energy efficiency its modern LED lighting collection. Customers can save more than 15% on all Cerno during the Spring Lighting Sale.
David Trubridge: Hailing from New Zealand, designer David Trubridge uses his nature-inspired aesthetic to create airy, contemporary pendant lighting. Customers can save 15% on this collection.
Feiss: Modern/transitional lighting from Feiss is perfect for a variety of styles, since the collection offers everything from warm, elegant designs to more modern, sleek fixtures. Customers can save over 32% on Feiss Lighting thru April 15.
Hinkley Lighting: Customers can save 40% off list prices on LED lighting by Hinkey. This modern collection includes a wide range of sleek styles, many of which are energy efficient.
Koncept: A customer favorite, Koncept task lamps are perfect for the desktop and reading nooks, with slim designs and LED lamping. Customers can save over 15% on Koncept Lighting during the Spring Lighting Sale at Lumens.com.
Marset: Clean, understated and with a European elegance—that's the style behind the contemporary fixtures from Barcelona-based Marset. The Marset line includes the new Scotch Club Collection and the coveted Discoco Pendant. Marset is discounted 10% during the Spring Sale.
Varaluz: Just in time for Earth Day, customers can save over 25% on lighting by Varaluz. Each Varaluz fixture is made from recycled, salvaged and sustainable materials.
The Lumens.com Spring Lighting Sale also includes discounts on modern lighting for the bath, kitchen, outdoor space and more.
In addition to these exclusive offers and discounts, Lumens.com offers free shipping everyday on orders $50 and higher (exclusions apply). Customers who shop at Lumens.com can also enjoy:
-Low-price guarantee
-Expert service via our customer service center of ALA-certified lighting experts
-Easy, no-hassle returns
-Volume order discounts
-More than 300 manufacturers, from contemporary lighting to transitional fixtures and modern furnishings, gifts and home accessories.
For additional information on the Spring Lighting Sale or other offers or products offered by Lumens.com, contact Sarah Schaale or visit lumens.com.
About Lumens.com:
Lumens.com is dedicated to offering the very best of design-oriented lighting, fans and home accessories, from the most contemporary international designs to modern interpretations of classic design.
Contact:
Sarah Schaale, Marketing Communications Manager
Lumens.com
916-444-5885
http://www.lumens.com