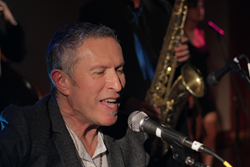 At some point I realized that many of the best songs I had ever written had never been released.
Santa Monica, CA (PRWEB) March 31, 2014
After 4 decades of making records, singer/songwriter/musician Ted Myers has finally recorded his first solo album.
More than 5 years in the making, "LifeAfterlife" was released March 25, 2014 on Ted's imprint, Nervous Wreckords. Ted describes it as "a collection of cosmic love songs."
"Some of these [songs] have been kicking around for decades," explains Ted, "some I wrote recently and some I finished after they germinated for many years. At some point I realized that many of the best songs I had ever written had never been released. This was because I was making rock records with rock bands and these highly melodic love songs just didn't fit. When I made a list of my best, most timeless and well-crafted songs, I saw a certain consistency of sound and mood, a concept if you will. I'm hoping the songs on this album transcend time and trend, as all really good music should."
From the lead-off song, "Goodbye on the First Rainy Day," an intriguing hybrid of jangly folk rock and psychedelic Middle Eastern jam, to the hauntingly beautiful melody of "There's a Song," to the cosmic, spacey, incredibly atmospheric "Overboard" to catchy, poppy "Sad, Sad Song," with its Phil Spector drums, Beach Boys melody and Stax horns, these songs bear the stamp of a seasoned craftsman of words and music. These are tunes that stay with you, and stay relevant, regardless of the rapidly-shifting sands of musical trends.
"I'm so grateful to all the first rate artists that helped me with this project. My co-producer and drummer Herb Quick has played with artists such as Stephen Bishop and the German prog rock band Triumvirat, lead guitarist Jim West has been the mainstay of "Weird" Al's band since the '80s and a brilliant slack key guitarist in his own right, my great friend, Latin jazz star Bobby Matos lent his talents on congas and percussion on "Rainy Day," I had one of the greatest horn sections in the business on "Sad, Sad Song": David "Woody" Woodford on sax and Lee Thornburg (formerly of Tower of Power) on trumpet and trombone, the list goes on."
Ted formed his first band, The Lost, in college in 1964. By 1965 they were one of the top bands in Boston and signed to Capitol Records. He later formed Chamaeleon Church (featuring a young Chevy Chase on drums) and joined the legendary psychedelic band Ultimate Spinach (with a pre-Steely Dan Jeff "Skunk" Baxter on lead guitar). In the '70s and '80s, while living in L.A., he made albums with the bands Glider and Incognito and was a staff songwriter for several music publishers. He wrote "Going in Circles," the title song for the Elizabeth Taylor movie X, Y & Zee, which was performed by Three Dog Night, appearing on two of their albums and a single (over six million records sold in all), as well as songs that were covered by Chilliwack, Seals & Crofts and others.
At the end of the '80s, deciding he was "too old to be a rock star," and about to become a dad, Ted went to work at Rhino Records, where he spent 11 years producing compilation CDs, one of which earned him a Grammy® nomination. He went on to work for other record companies, including Shout! Factory, Time Life Music, Livewire Recordings and Concord Music Group.
"I wanted to make one last, lasting statement in music before passing the torch on to the younger generation," says Ted. "I'm hoping some of the younger audience will relate to these songs, because they incorporate the same kind of songwriting values used by timeless artists like The Beatles, Brian Wilson, and Led Zeppelin, and I know a lot of young people who relate to them."
For more, visit tedmyersmusic.com.