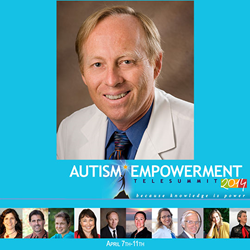 I hope you will join me in the Autism Empowerment Telesummit-2014
New Orleans, LA (PRWEB) April 02, 2014
This year's Autism Empowerment Telesummit, an online event, will feature Dr. Paul G. Harch on a panel of 15 worldwide experts in the field of autism. This prestigious group of experts, with years of experience, research and success, is devoted to sharing their knowledge and practical tools.
Since the treatment of the first autistic child in 1995, Dr. Harch has found that autistic children are exquisitely sensitive to oxygen and pressure and that the great majority of them will experience improvements in their autistic symptoms with hyperbaric oxygen therapy.
This Telesummit will cover new possibilities for autistic children and how to find the resources to aide positive development.
This year's Autism Empowerment Telesummit will cover:

Having a healthy digestive system and improved immunity.
Experiencing more physical comfort in his/her everyday life.
Overcoming his/her challenging eating habits.
Having fewer episodes of hitting/biting/head banging and temper tantrums.
Breaking through communication barriers so s/he can more fully understand and be understood.
Deepening his/her relationship with you, family members and peers.
Fully engaging in games with you and his/her peers.
The Autism Empowerment Telesummit starts next week and runs April 7th through to April 11th.
Tuesday, April 8th (1 pm EST) Dr. Paul Harch will lecture online at the Autism Empowerment Telesummit 2014. The fact is that AUTISM is not a psychiatric disorder it is a pediatric brain injury as evidenced by SPECT brain scan imaging. SPECTs reveal the injury in Autism to be usually most prominent in the temporal lobes. HBOT treats brain injury. Dr. Harch will discuss his experience with Hyperbaric Oxygen Therapy in the Treatment of Autism.
This is THE Autism Event of the Year. For more information on the speakers and to save your spot in this free virtual event visit author and event founder Tali Berman at Autims-Telesummit.com.