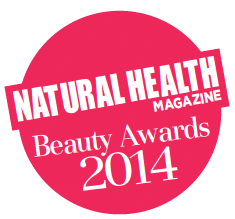 We are thrilled to receive such an accolade by the biggest and most established industry Awards.
Marina del Rey, CA (PRWEB) March 31, 2014
Suntegrity Skincare announced their top selling face sunscreen has been included in the 2014 Natural Beauty Awards run by Natural Health Magazine. The award winning Suntegrity Natural Moisturizing Face Sunscreen is this year's winner of the "Best Sun Cream" award.
Suntegrity's Award Winning Natural Sunscreen is a rich, non-greasy, "UV chemical-free" face sunscreen that offers Broad Spectrum Protection against damaging UVA & UVB rays. Infused with youth promoting antioxidants, this 3 in 1 product functions as a face moisturizer, sunscreen and make-up primer all in one. Hyaluronic acid, astaxanthin, red algae and Certified Organic: aloe vera, jojoba, sunflower, pomegranate, cucumber, and green tea help provide additional sun protection, moisture and hydration. Non-nano sized zinc-oxide not only protects the skin from the damaging UV rays, but it also soothes and calms the skin. Zinc-oxide is known for it's anti-inflammatory properties that often help skin conditions like rosacea, acne, and melasma.
Suntegrity Founder Tricia Trimble said, "We are thrilled to receive such an accolade by the biggest and most established industry Awards." Now in their eighth year these prestigious Beauty Awards are the largest and most respected accolades, stamping industry approval and consumer satisfaction onto those products and brands, people and places that win.
About Suntegrity:
Suntegrity Skincare is a natural, healthy and holistic sun care line developed by Tricia Trimble after losing her mother to melanoma skin cancer. Suntegrity sunscreens use only the best known physical/mineral sunscreen ingredient (non-nano size zinc oxide) to provide Broad Spectrum SPF 30 protection, along with youth-promoting antioxidants to help with skin repair. Suntegrity sunscreens received #1 ratings by the EWG's (Environmental Working Group) 2013 Sunscreen Guide and never use synthetic UV chemical blockers, synthetic fragrances, or parabens in their formulas. For more information, visit SuntegritySkincare.com and "Like" our Facebook page at: https://www.facebook.com/suntegrity.